Posts tagged with 'coal'
by Sarah Laskow, Media Consortium blogger
The renewable era is still far away. Despite the attention and rhetoric that has been given over to green energy projects, Interior Secretary Ken Salazar announced this week that coal companies would be able to take a whack at mining 2.35 billion tons of coal in Wyoming's Powder River Basin. A new oil slick appeared off the coast of Louisiana. And Japanese authorities warned Tokyo residents that the city's water contained levels of radioactive material unsafe for infants to consume.
The black rock
Grist's Glenn Hurowitz calls Big Coal's new opportunities in Wyoming "an enormous expansion in coal mining that threatens to increase U.S. climate pollution by an amount equivalent to more than half of what the United States currently emits in a year." The Powder River Basin is the most productive coal region in the country, and as the Interior Department noted in its announcement of the coal lease sale, Wyoming as a whole accounts for 40% of all coal used in domestic electricity generation. (In John McPhee's 2005 New Yorker piece on coal trains, he follows coal mined in the Powder River Basin to a power plant in Georgia, for instance.)
The DOI emphasized the role of coal in the country's energy mix and its importance for creating jobs in Wyoming; Hurowitz read a different message in this announcement. His analysis is scathing:
Despite his administration's rhetorical embrace of clean energy, Obama is effectively using modest wind and solar investments as cover for a broader embrace of dirty fuels. It's the same strategy BP, Chevron, and other major polluters use: tout modest environmental investments in multi-million dollar PR campaigns, while putting the real money into fossil fuel development.
Exposure to radiation
At Truthout, H. Patricia Hynes has a similarly dour view of the Nuclear Regulatory Commission, which oversees the country's nuclear power plants. "This regulatory agency has never seen a nuclear plant it didn't like," she writes.
Since the nuclear crisis in Japan, American leaders have been at pains to remind nervous citizens that nuclear energy is cleaner than coal and will continue to contribute to U.S. power. But as Hynes points out, even in the absence of crisis, nuclear plants come with consequences: they leave behind radioactive tailings, depleted uranium and spent nuclear fuel. And during their life cycle, Hynes writes:
Nuclear power plants routinely release small amounts of radioactive isotopes during operation and they can release large amounts during accidents. For this latter reason, a 2003 expert panel of the National Academy of Sciences recommended that potassium iodide pills be provided to everyone 40 and younger who lives near a nuclear power plant to protect against exposure to radioactive iodine.
Of course, the risks in a crisis are great, too. In Japan, people living near the Fukushima plant are being exposed to levels of radiation higher than they should be, Democracy Now! reports. Aileen Mioko Smith, director of Green Action, in Kyoto, told Amy Goodman, "The Japanese government admitted that 30 kilometers outside—this is not an evacuated zone—a person could have been exposed to as much as 100 millisieverts of radiation. That would be twice the amount of the evacuation threshold established by the International Atomic Energy Agency and the World Health Organization. And yet, the Japanese government refuses to evacuate people from beyond a 20-kilometer—that's a 12-mile—area."
Snake oil
The full impact of the nuclear crisis in Japan may not be obvious for years; that's one of the reasons radiation exposure plays on people's fears so effectively. One of the scary things about nuclear meltdowns or oil spills or coal smog is that it takes a long time for the negative effects to be dealt with. Michigan, for instance, is still struggling with the aftermath of the oil spilled in the Kalamazoo River this summer.
This spill was smaller than the BP disaster, but as Change.org's Jamie Friedland reports, activists are finding oil in supposedly cleaned sections of the river and a clean-up worker was fired after he witnessed and then talked about other workers hiding oil they were supposed to be dealing with. And, Friedland writes, the county-level task force that was supposed to be watching the process has accomplished little in its short existence.
These sorts of stories are playing out all of the time, on larger and smaller scales. As Care2′s Beth Buczynski writes, another well in the Gulf Coast is leaking. It has released only a small amount of oil, but it's a reminder that our energy system is routinely polluting the environment.
These pollutants pose a danger to people, too, and for years after they have entered the system. At In These Times, R.M. Arrieta writes about the impacts of development by Lennar Corporation at Hunters Point Naval Ship yard, a Superfund site. Arrieta writes, "When Lennar started grading a hillside, heavy equipment breaking the serpentine rock in the hill released plumes of naturally occurring asbestos. Nearby residents complained of bloody noses, headaches, breathing problems and increased incidents of asthma attacks."
That is just one of the problems the community has encountered so far. It's convenient to believe we can regulate and control the dangerous materials we introduce into the environment, but all too often, it turns out, we can't.
This post features links to the best independent, progressive reporting about the environment by members of The Media Consortium. It is free to reprint. Visit the Mulch for a complete list of articles on environmental issues, or follow us on Twitter. And for the best progressive reporting on critical economy, health care and immigration issues, check out The Audit, The Pulse, and The Diaspora. This is a project of The Media Consortium, a network of leading independent media outlets.
By Sarah Laskow, Media Consortium blogger
An Ecuadorian judge ordered Chevron this week to pay $8.6 billion in damages for polluting the Amazon rainforest from 1964 until 1990. The payout is the second largest ever in an environmental case, with only the damages BP agreed to pay in the wake of last summer's Deepwater Horizon spill being higher.
Environmental lawyers and advocates hailed the case as a landmark victory, but as Rebecca Tarbotton reports at AlterNet, Chevron is still planning to fight the case.
"In fact, the oil giant has repeatedly refused to pay for a clean up even if ordered to by the court," she writes. "In one chilling statement, Charles A. James, Chevron's vice president and general counsel, told law students at UC Berkeley that Chevron would fight 'until hell freezes over, and then skate on the ice.'"
The Cost of Doing Business
Chevron can continue to fight the case because it's cheaper for them to fund their lawyers than to cough up billions. Like so many environmental issues, this one comes down to money, which environmentally destructive corporations always seem to have and activists, regulators, and victims simply don't.
In Washington, the newly empowered Republican Party is doing its darndest to make sure that remains the case. It's budget season, and the Environmental Protection Agency is one of the prime targets for cutting in Republicans' budget proposals. Kate Sheppard reports at Mother Jones that House Republicans are not only trying to take away $3 billion from the agency, but also are pushing to bar the EPA from regulating carbon or other greenhouse gasses. Putting this in context, Sheppard writes:
The National Wildlife Federation says the cuts amount to a "sneak attack" on existing environmental laws like the Clean Air and Clean Water Acts, because they would make it basically impossible for the EPA to do its job. The huge cut—the biggest in 30 years—"would jeopardize the water we drink and air we breathe, endangering the health and well-being of all Americans," Gene Karpinski, the president of the League of Conservation Voters, said Monday.
The need for green
But environmentalists have their backers, too. At Grist, Bill McKibben, the author and climate activist who co-founded the climate group 350.org, has an interesting look at how the Sierra Club's National Coal Campaign, led by Bruce Nilles, banded together with other environmental activists to successfully shut down proposals for coal-fired power plants across the country. One of the keys, of course, was money:
A consortium of foundations led by the Rockefeller Family Fund helped provide not only resources for the fight but crucial coordination. By the summer of 2005, RFF's Larry Shapiro, David Wooley from The Energy Foundation, Nilles, and others formed a loosely organized "coal cadre."
The coordination was crucial not only for the advocacy groups involved, which each have different strengths and geographical bases, but for the money men as well:
"I first went to Florida in 2005 to meet with several groups fighting coal plants," said Shapiro. "I thought I would figure out who we could give $50,000 to. After my trip, I realized it wasn't a $50,000 project — it was a million-dollar project. Over time, the Energy Foundation and others got into the game, so we ended up with some real money."
In the end, McKibben reports, RFF gathered together, from its own pockets and from other foundations, $2.8 million.
Windfall
On top of the type of advocacy work that McKibben details, there's another reason why more communities and companies are moving away from coal-fired power plants: they have a choice. Plants fueled with natural gas are a popular alternative, but as Gina Marie Cheeseman writes at Care2, in some areas, onshore wind power can compete with coal on costs.
"In some areas of the U.S., Brazil, Mexico and Sweden, the cost of wind power ($68 per megawatt hour) generated electricity is competitive with coal-fired power ($67 a megawatt hour)," Cheeseman writes. Wind power is also, she notes, competitive with natural gas, according to the American Wind Energy Association.
Close to home
These sort of adjustments make it easier for consumers to make sustainable choices. And in the end, personal choices do impact the amount of carbon humanity is spewing into the atmosphere. As two recent European studies showed, men make choices that generally produce more carbon emissions than women, Julio Godoy reported for Inter Press Service.
One study focused on France, the other on Germany, Greece, Norway, and Sweden. The second study, conducted by researchers at the Swedish Defence Research Agency, found that men ate more meat, drank more processed beverages, and drove more frequently and for longer distances. Annika Carlsson-Kanyama, one of the study's authors, has argued that their results apply more broadly, too.
"These differences are not specific to the four countries studied, but are generalised across the European Union and have little to do with the different professional activities of men and women," she told Godoy.
This post features links to the best independent, progressive reporting about the environment by members of The Media Consortium. It is free to reprint. Visit the Mulch for a complete list of articles on environmental issues, or follow us on Twitter. And for the best progressive reporting on critical economy, health care and immigration issues, check out The Audit, The Pulse, and The Diaspora. This is a project of The Media Consortium, a network of leading independent media outlets.
by Sarah Laskow, Media Consortium blogger
The argument against natural gas got a boost this week, when a congressional investigation turned up evidence that oil and gas companies were using diesel gas to extract gas from the ground.
Natural gas companies have insisted that their newly popular hydraulic fracturing (known as "fracking") techniques are safe, but as Care2′s Kristina Chew reports, "environmentalists and regulators have become increasingly concerned that the fracking chemicals—including toluene, xylene and benzene, a carcinogen, which are all from diesel gas—are seeping out into underground sources of drinking water, in violation of the Safe Water Drinking Act."
The mix-up
The Environmental Protection Agency is conducting an inquiry into the environmental impacts of fracking, and some states are considering more stringent regulations of the practice, including disclosure of the chemicals that go into fracking fluid. Gas companies have argued that the blend of chemicals is a trade secret and must be kept private, but the findings of the congressional investigation suggest otherwise. Eartha Jane Melzer reports at The Michigan Messenger, "In a letter to EPA administrator Lisa Jackson… Reps. Henry Waxman, Edward Markey and Diana DeGette reported that although the EPA requires permits for hydraulic fracturing that involves diesel none of the companies that admitted using diesel have sought or received permits."
And, as Melzer reports, diesel is the only chemical used in fracking that's currently regulated under the Safe Drinking Water Act. That companies have been sneaking it into the ground does not strengthen the industry's case for independence.
Ensuring that natural gas companies do their work without threatening water supplies is becoming ever more crucial, as the fuel becomes one of the go-to replacements for coal. In Massachusetts, for instance, some legislators are pushing for a coal plant in Holyoke to start using natural gas or renewable energy, rather than being shut down, as Nikki Gloudeman reports at Change.org.
Supporting renewables
And although renewables are thrown in there as an option, right now the clearest way to replace the amount of energy generated by coal is natural gas. This year's line on energy policy from Washington, however, is that the country should support innovations in clean energy.
Will Obama's new direction on this issue go anywhere? Grist's David Roberts has been arguing that any energy policy that leaves out climate change is missing the point.
However, Teryn Norris and Daniel Goldfarb (also at Grist), of Americans for Energy Leadership, a California-based non-profit, have a smart rebuttal. They argue that clean energy needs the boost in research and development that Obama is promising. Ultimately, they, write, "these investments will drive down the price of low-carbon energy and pave the way for stronger deployment efforts — perhaps even including a strong carbon price at some point — both here and in the developing world, where the vast majority of future emissions will originate."
But, about climate change!
And to be fair, the federal government is trying to lead the way on investing in renewables. As Beth Buczynski reports at Care2, the Department of Energy is working on a $2.3 million solar energy project that would power its Germantown, Md., location.
Not every one is willing to wait for investments to take hold, however. On the National Radio Project's show, "Making Contact", Andrew Stelzer examines what climate activists are doing, post-Cancun, to push forward debates on climate change. Ananda Lee Tan, Global Alliance for Incinerator Alterantives argues, for instance, "Community-led climate justice in the U.S. has been winning. The largest amount of industrial carbon that has been prevented in this country has been prevented  by community-led groups, grassroots groups fighting coal, oil and incinerators."
Cause and effect
Whether the solution comes from industry, government, or grassroots groups, the country's energy policy will change over the next few decades. And what's troubling is that it's not clear what the impact will be. Take natural gas: Washington favors it right now because it's thought to have lower carbon emission than coal. But any time humans introduce new factors into the environment, they can have unexpected consequences.
That's not only true for the energy industry, too. In Texas, for instance, the government is trying to eradicate an invasive plant species, a type of giant cane called Arundo that is growing all over the Rio Grande Valley. As Saul Elbein reports for The Texas Observer, it's been hard to eradicate:
There are three primary ways to control invasive plant species: Kill them with herbicides, clear them with bulldozers and machetes, or attempt to introduce a new predator. The least controversial approach, clearing the cane, is not going to work. There are thousands of square miles of the stuff, and Arundo cane is nearly impossible to cut out. Each stalk has a thick taproot that sends shoots in every direction. You can bulldoze or chop the cane down, and it will grow right back. Worse, any stress on the plant—say a machete blow—causes it to send out more root stalks. Every chopped-up joint of cane that floats downstream can sprout another stand.
But, Elbein reports, scientists have come up with a different solution: They've bred wasps that originate in the same region as the cane to come in and eat it. They've also taken precautions that the wasps won't have their own adverse impact on the environment by ensuring that they can only survive on this particular type of plant. But even then, it's a tricky business.
"The wasps have to survive," John Adamczyk, an entomologist running the project, told Elbein.  "They have to not all get eaten. Then it becomes a question of whether they can keep the cane in check."
This post features links to the best independent, progressive reporting about the environment by members of The Media Consortium. It is free to reprint. Visit the Mulch for a complete list of articles on environmental issues, or follow us on Twitter. And for the best progressive reporting on critical economy, health care and immigration issues, check out The Audit, The Pulse, and The Diaspora. This is a project of The Media Consortium, a network of leading independent media outlets.
Editor's Note: Due to the holidays, the Weekly Mulch will appear on Thursday afternoon both this week and next week. We'll resume regular Friday morning posts in 2011.
by Sarah Laskow, Media Consortium Blogger
It's the naughty children who get coal in their stockings, and it seems like Americans must have been naughty this year. Because across the country, we're awash with coal, carcinogens, and other toxins. And our government is not doing to much to change that.
Waste not
After the massive coal ash spill in Tennessee two years ago, the EPA began working on more stringent regulation of the waste, a byproduct of coal mining. But, as Kate Sheppard reports at Mother Jones, the industry has been pressuring the administration to adopts weaker regulations than it could.
"Two years after the largest toxic spill in the nation's history, there is still no regulation of deadly coal ash dumps—nor is there clear direction from EPA on the timing or content of a final rule," Lisa Evans, senior administrative counsel for Earthjustice, told Sheppard.  "For the communities enduring damage from aging ponds and leaking landfills, time has run out. There is no reason on earth that their health should be compromised by such an easily avoidable harm."
What's in the water?
Coal ash is one of those pollutants that clearly poses a problem. It looks dangerous. But not all pollutants are so obviously dangerous. This week, for instance, the Environmental Working Group, an environmental health non-profit group, released a report showing that much of the country's tap water is contaminated with the carcinogen hexavalent chromium, with levels high enough to pose a risk to human health.
"Exposure in tap water has been linked to cancers of the stomach and gastrointestinal tract in both animals and people," Rebecca Sutton, a scientist for the Environmental Working Group, wrote at AlterNet. Thirty-one of the 35 cities that the group examined had dangerously high levels of the contaminants in the tap water.
How did this happen? As Sarah Parsons explains at Change.org, "The reason so much chromium-6 winds up in tap water is that industries spew it into waterways, utilities fail to test for the substance, and the EPA doesn't regulate it in drinking water."
What the EPA does do, Parsons reports, is limit the total chromium in drinking water, "the combined amount of hexavalent chromium and trivalent chromium." She explains, "The problem is that trivalent chromium is actually good for you—in fact, it's necessary for metabolism. Hexavalent chromium, on the other hand, is a noxious carcinogen."
Moving forward
These prevalent toxins are just two reminders that, for all their successes in recent decades, environmentalists still have much work ahead of them. How should they approach that work? Earth Island Journal's Jason Mark, considering lessons from the 1980s-era environmental leaders, who focused on moving toward the center and working within the confines of D.C. politics, offers this thought: "The new leaders of 2010 say what we need is less focused group messaging and inside-the-Beltway maneuverings, and more heartfelt spirit and energy directed encouraged at the grassroots. I hope their instincts are right. Because at this point I don't think we can wait another 25 years to figure this stuff out."
This post features links to the best independent, progressive reporting about the environment by members of The Media Consortium. It is free to reprint. Visit the Mulch for a complete list of articles on environmental issues, or follow us on Twitter. And for the best progressive reporting on critical economy, health care and immigration issues, check out The Audit, The Pulse, and The Diaspora. This is a project of The Media Consortium, a network of leading independent media outlets.
by Sarah Laskow, Media Consortium Blogger
It won't be long before the world has to confront its diminishing supply of clean water.
"We've had the same amount of water on our planet since the beginning of time, " Susan Leal, co-author of Running Out of Water, told GritTV's Laura Flanders. "We are on a collision course of a very finite supply and 7.6 billion people."
What's worse, private industries—and energy companies in particular—are using waterways as dumping grounds for hazardous substances. With the coal industry, it's an old story; with the natural gas industry, it's a practice that can be nipped in the bud.
In many cases, dumping pollutants into water is a government-sanctioned activity, although there are limits to how much contamination can be approved. But companies often overshoot their pollution allowances, and for some businesses, like a nuclear energy plant, even a little bit of contamination can be a problem. (more…)
by Lindsay Beyerstein, Media Consortium blogger
Christine O'Donnell is master of her domain. The deeply conservative Tea Party darling won the Republican senate nomination in Delaware last night with a stunning upset of establishment favorite Rep. Mike Castle.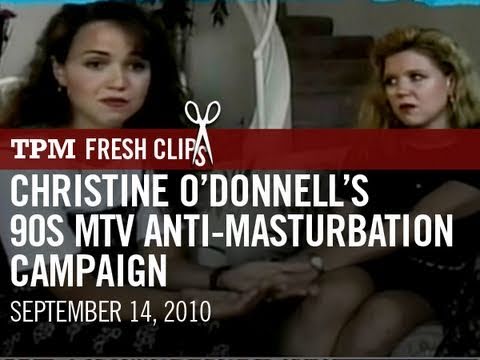 O'Donnell rose to prominence as an anti-masturbation crusader in the 1990s. Jillian Rayfield of Talking Points Memo has video of O'Donnell's 1996 appearance on MTV's series "Sex in the Nineties" in which she and her colleagues from the Savior's Alliance for Lifting the Truth Ministry. (SALT) O'Donnell warns teens that masturbation is adultery that will undermine their future marital sex lives: "You're going to be pleasing each other, and if he already knows what pleases him and he can please himself, then why am I in the picture?" she asks. (more…)
by Sarah Laskow, Media Consortium blogger
President Barack Obama is in Louisiana today, and BP is saying it will know in 48 hours if its attempt to "top kill" the leaking oil well in the Gulf Coast by pouring mud and cement over it has worked.
If the scramble to stop the leak has ended, the slog to clean up is just beginning. Thousands of fisherman are still out of work, as  ColorLines notes. But there are new jobs in Louisiana. This week Mother Jones' Mac McClelland visited workers raking oil off a beach in Louisiana. One man, she writes, "can't count how many times he's raked this same spot in the 33 hours he's worked it since Thursday, but one thing he's sure of, he says, is that he'll be standing right here tomorrow and the next day, too." (more…)
by Sarah Laskow, Media Consortium blogger
Sen. John Kerry (D-MA) and Sen. Joe Lieberman (I-CT), though down one man, finally released their stab at climate legislation this week. One of the most crucial sections in the bill covers off-shore oil drilling, an issue that was supposed to help solve the tricky math of reaching 60 votes. But since the Deepwater Horizon rig sank in the Gulf of Mexico, drilling has become a wedge issue.

Just a few weeks ago, off-shore drilling could have been a point of compromise around which Senators could rally votes to pass the climate bill; now the bill had to strike a new balance to mollify both potential allies who oppose drilling, like Sen. Robert Menendez (D-NJ), and those who support drilling, like Sen. Mary Landrieu (D-LA). The draft that Sen. Kerry and Sen. Lieberman released this week allows for expanded drilling but gives states veto power over new projects.
Sen. Lindsey Graham (R-SC), who worked on the bill, said that he had not seen the changes his two colleagues had made since he dropped out of the drafting process—but he looked forward to reviewing their work. Although Sen. Kerry says he thinks the bill can pass,  without support from Sen. Graham or another Republican, chances are slim. (more…)
By Sarah Laskow, Media Consortium Blogger
Coal consumption has costs — this week's explosion at a West Virginia mine, which killed 25, made that clear. Those costs aren't
limited to human lives, either. Massey Energy Co., the owner of the West Virginia mine, has not just racked up safety violations but also consistently disregarded the environmental effects of its work.
Black marks on Massey's record
This week's explosion is far from the first debacle associated with a Massey project, and past incidents have had disastrous impacts on the environment. In 2000, a break in a Massey-owned reservoir, filled with coal waste, caused more damage than the Exxon Valdez spill, Steve Benen writes at The Washington Monthly. Clara Bingham described the flood of sludge for the magazine in 2005:
"The gooey mixture of black water and coal tailings traveled downstream through Coldwater and Wolf creeks, and later through the river's main stem, Tug Fork. Ten days later, an inky plume appeared in the Ohio River. On its 75-mile path of destruction, the sludge obliterated wildlife, killed 1.6 million fish, ransacked property, washed away roads and bridges, and contaminated the water systems of 27,623 people."
A year later, another 30,000 gallons of sludge poured into a river in Madison, WV, "with nary a peep from Massey," Kevin Connor points out at AlterNet.
By Sarah Laskow, Media Consortium blogger
Climate legislation is returning to the Senate's docket, and leaders on Capitol Hill are hoping that this version, a compromise bill spearheaded by Sens. John Kerry (D-MA), Lindsey Graham (R-SC) and Joe Lieberman (I-CT), can pass without getting caught in the morass of money and politics that has delayed action so far.
A long, long time ago…
Remember, there was a time when Congress was going to pass climate legislation before the international climate change negotiations in Copenhagen. President Barack Obama was going to show up with a bill in hand and lead the world towards a better climate future. After the House passed its climate bill in June 2009, the Senate began discussing climate change, and a first stab by Sen. Kerry and Sen. Barbara Boxer (D-CA) went nowhere. Now, Kerry has turned to less liberal colleagues to draft an alternative that would appeal to moderates and even Republicans.
Now the Massachusetts senator is promising that climate change isn't dead. A new bill is coming—more information may be in the offing as early as today, as Kate Sheppard reports at Mother Jones. (more…)