Posts tagged with 'colorlines'
The Media Consortium is pleased to announce the winners of our first annual Impact Awards. The winners for 2013 are:
American Prospect
Berrett-Koehler Books
Colorlines
Mother Jones
Washington Monthly
The awards were announced at the Media Consortium's annual meeting in Baltimore. Our judges were the editorial team from New Press. For more on each winner, check out our video
by Catherine A. Traywick, Media Consortium blogger
Nearly a decade ago, America's War on Terror began as a manhunt for Al Qaeda leader Osama Bin Laden, the mastermind behind the 9/11 terrorist attacks. But over the next nine years, that anti-terrorism effort evolved into a multi-faceted crusade: birthing a new national security agency, blossoming into two bloody wars in Afghanistan and Iraq, institutionalizing the racial profiling and surveillance of Muslim Americans and even redefining unauthorized Latin American immigration as—of all things—a national security issue. Now, in the wake of Osama Bin Laden's death, which elements of that crusade will persist or expand and which—if any—will dissolve?
Muslim Americans celebrate bin Laden's death…
Following the announcement of bin Laden's death last Sunday, Americans feverishly rejoiced at the news that a mission actually was accomplished in the War on Terror.  Profoundly, the celebrants included scores of individuals who had unwittingly become targets of that crusade—Pakistani immigrants and American Muslims.
Mohsin Zaheer of Feet in Two Worlds reports that Islamic groups in the United States wasted no time applauding President Barack Obama for Bin Laden's death, taking the opportunity to distance themselves and Islam from the legacy of the slain terrorist. And while many Americans forget that the 9/11 terror attacks killed nationals from 70 different countries, Zaheer notes that the many immigrants who lost loved ones that day took some comfort in knowing that justice has been done.
But Muslims in the U.S. also had another cause for celebration. Bin Laden's death coincided with the termination of a grossly discriminatory federal program that has targeted, tracked and deported thousands of immigrants from predominately Muslim countries since 2002. ColorLines.com's Channing Kennedy describes the program (called NSEERS or the National Security Entry/Exit Registration System) as "one of the most explicitly racist, underreported initiatives in post-9/11 America" which "functioned like Arizona's SB 1070, with working-class Muslims as the target." The Department of Homeland Security has been vague about its reasons for ending the program, but the decision  amounts to a victory for immigrant rights groups that have been protesting the effort since its launch nine years ago.
…but still face an uncertain fate
That said, the fate of Muslims in America is far from rosy. As Seth Freed Wessler notes at ColorLines.com, the Department of Homeland Security continues to target, detain and deport Muslims "in equally insidious, but less formal ways" than the NSEERS program.
Pointing to investigations by "Democracy Now!" and the Washington Monthly, Wessler explains that the Department of Justice "has repeatedly used secret informant-instigators to manufacture terrorist plots" and advocated religious intolerance, racial profiling and harassment in its search for homegrown terrorists. Through these means, the quest for security has degenerated into the systemic persecution of American Muslims and countless other immigrants deemed threats to national security becaue their race, religion or nationality. And that didn't die with bin Laden.
As recently as last March, in fact, Republican Rep. Peter T. King, chairman of the House Homeland Security Committee, held a hearing on the radicalization of Muslim Americans—during which numerous witnesses repeatedly reiterated the dire threat posed by radical Muslims in the U.S. At the time, Behrouz Saba of New America Media noted that the hearing lacked any discussion of U.S. military presence in the Middle East and its impact on radicalization. Rather than critically examine the many ways in which U.S. foreign policy and military conflict breeds the monster it aims to destroy, the hearing instead served to demonize a growing, well-educated and largely law-abiding population of the United States.
The Latin American link
But the War on Terror has deeply impacted other marginalized communities as well. Even the circumstances of bin Laden's death bears an alleged connection to the frought issue of Latin American immigration to the U.S.—an issue that has, itself, undergone massive scrutiny and regulation following 9/11.
ThinkProgress reports that one of the Navy Seals involved in Bin Laden's extermination is, purportedly, the son of Mexican migrants. While the veracity of that claim has been contested by some, Colorlines.com's Jamilah King argues that the rumor nevertheless "raises serious questions around the military's recruitment of Latino youth, the staggering numbers of Latino war causalities, and the Obama administration's often contradictory messages on immigration reform." She continues:
Casualties among Latino soldiers in Iraq rank highest compared to other groups of soldiers of color. Yet while the military actively courts Latino youth and immigrants with one hand, it's aggressively deporting them and their families with the other.
It's worth noting that, within the government, the most vocal proponents of the DREAM Act supported the legislation because they expected it to dramatically increase Latino enrollment in the military. While the DREAM Act ultimately died in the Senate, proponents of its military provision are perpetuating a troubling and persistent dichotomy that is only reinforced in the wake of bin Laden's demise: immigrants are welcome on our battlefields, but not in our neighborhoods.
It's comforting, albeit naïve, to believe that Osama bin Laden's death will cap a decade of military conflict and draw a torturously long anti-terrorism crusade to a close. More likely, our multiple wars will persist longer than they should, and our domestic security apparatus will continue targeting the most vulnerable members of our society under the misguided notion that such enforcement strengthens rather than divides us.
This post features links to the best independent, progressive reporting about immigration by members of The Media Consortium. It is free to reprint. Visit the Diaspora for a complete list of articles on immigration issues, or follow us on Twitter. And for the best progressive reporting on critical economy, environment, and health care issues, check out The Audit, The Mulch, and The Pulse. This is a project of The Media Consortium, a network of leading independent media outlets.
By Lindsay Beyerstein, Media Consortium blogger
This week marks the final edition of the Weekly Audit. It has been a pleasure compiling the best financial and economic writing in the Media Consortium. Thanks to all the contributors whose work we've showcased and to all the loyal readers who have shared in this experience.
Debt Ceiling 101
As the Weekly Audit wraps up, we're looking ahead to some critical economic issues facing the country. Christen Simeral and Veronica Beebe of The American Prospect explain what the debt ceiling is and why the debate over raising it is shaping up to be the political battle of the year.
In short, the debt ceiling is the maximum amount the government can borrow. The debt ceiling is currently $14.294 trillion. At the current rate of spending, we're due to hit the wall around May 16, if Congress doesn't vote to raise it. Usually, raising the debt ceiling is a formality. Congress has voted to raise the debt ceiling 10 times in the last 10 years.
If the debt ceiling isn't raised, the government can't take on any new spending commitments. Worse still, the government may not have the cash it needs to pay tax refunds, Social Security payments, and other critical disbursements. Failing to raise the debt ceiling would hurt the U.S.'s credibility in global markets, making it more expensive for us to borrow money in the future.
The war on unions
All across the country, right wingers are trying to turn union workers into scapegoats for the nation's economic woes.
Right wing media baron Andrew Breitbart tried to frame some labor history instructors at the university of Missouri by deceptively splicing together hours of classroom footage to make it look like the professors were advocating violence and sabotage, Dave Gilson of Mother Jones reports. The unedited video shows that the instructors are discussing the bloody history of the American labor movement, in which violence has overwhelmingly been perpetrated by management against workers.
NAFTA reprise
Multinational corporations are renewing their lobbying push for more NAFTA-like trade deals, Michelle Chen reports for Colorlines.com:
The construction giant Caterpillar is reportedly planning to treat its workers to steaming cups of Colombian coffee in the coming weeks, to warm them to the benefits of doing business with their "partners" in Latin America. While employees enjoy their break, lobbyists will be working hard, in their name, to peddle so-called "open markets" in Colombia, Panama and South Korea.
Chen reports that lobbyists for multinationals are besieging Congress to push for three new accords. The Panama deal is expected to be first on the agenda. Advocates for fair trade have been fighting these deals since the George W. Bush administration.
The push for deregulated international trade is on at the state level, too. The conservative American Legislative Exchange Council (ALEC) is handing out boilerplate resolutions to state representatives urging Congress to approve the trade deals. Chen notes that the Koch Foundation is among the major backers of ALEC.
High gas prices
Gas prices have long been seen as a bellweather of the electorate's state of mind. When gas is cheap, incumbents rest a little easier. When gas prices rise, challengers start licking their chops. Daniel J. Weiss and Valeri Vasquez report in Campus Progress that rising gas prices are frustrating consumers and enriching speculators:
This year "it's like déjà vu all over again." Oil prices are rising to heights not seen since 2008. Oil rose from $85 per barrel to $112 per barrel in a little more than two months—a whopping one-third leap. Gasoline prices have followed along, rising by 70 cents per gallon—or 23 percent—during this same time. As our economy struggles to recover from the Great Recession, Americans are again forced to pinch pennies to afford their commute to work, school, and worship. Meanwhile, oil companies prepare to reap record profits in the first quarter of 2011.
The authors note this combination of rising pump prices and soaring corporate profits looks an awful lot like the oil shock of 2008, which helped push the economy into recession.
Archives from The Weekly Audit can be found here and will remain posted at this site. If you'd like see more top news and headlines from independent media outlets, please follow us on Twitter, or fan The Media Consortium on Facebook.
by Eric K. Arnold, Media Consortium blogger
The proposed AT&T/T-Mobile merger continues to dominate media policy headlines, but the wireless merger isn't the only game in town. AOL's recent buyout of the Huffington Post has raised intellectual property issues, rural communities still lack speedy broadband access, and a proposed Verizon antenna in Oakland has come under fire by neighborhood activists.
AT&T an Underdog?
Telecommunications giant AT&T is many things, and an underdog in need of federal assistance isn't one of them. Yet Colorlines.com's Jamilah King says that's exactly how the company is portraying itself in its proposed $39 billion dollar takeover of T-Mobile.
In its official filing with the Federal Communications Commission (FCC), King reports, "AT&T spends nearly 90 pages describing T-Mobile's weaknesses, while detailing the roadblocks it says it'll face if federal regulators don't green light the deal." If federal regulators block the deal, AT&T argues, its customers "would face a greater number of blocked and dropped calls as well as less reliable and slower data connections. And in some markets, AT&T's customers would be left without access to more advanced technologies."
It's hard to feel sorry for AT&T, though, since the deal has raised concerns that consumers ultimately will pay more for cell phone service, which could adversely impact low-income, minority, and immigrant users who rely on the low-cost plans currently offered by T-Mobile. If the merger passes federal muster, King writes, "it'll likely mean the unheralded return to prominence of the former Ma Bell monopoly that ruled American telecommunications for most of the twentieth century."
Competition without Competitors
As Nancy Scola writes in The American Prospect, AT&T's 381-page FCC filing essentially comes down to this: "you can have the benefits of competition without actual competitors."
Scola traces the history of the telecommunications industry, touching on the 1982 antitrust case which resulted in the break-up of Ma Bell (aka AT&T) into seven Baby Bells, as well as analyzing current media policy in Washington:
As a powerful company that just announced $31 billion in revenues last quarter AT&T retains great sway. The FCC often defers to the company's role as the founders of American telecommunications. And Congress, a recipient of large sums of AT&T cash, often seems dazzled by the company's bright lobbyists who talk in confusing but exciting ways about 'spectrum synergies' and 'LTE deployment.'
The takeaway? Congress and federal regulators need to put consumers' needs ahead of the telecoms:
In 21st-century America, mobile phones are simply far too important a technology for Washington to give them the usual treatment. With a breathtaking nine out of 10 Americans now owning a cell phone, the wireless market is one that has to work for consumers.
HuffPo Lawsuit, Boycott Highlight IP Issues in New Media Era
The AT&T/T-Mobile merger has garnered a lot of media attention, but it's not the only merger worth scrutinizing. Truthout's Nadia Prupis takes a closer look at reactions to the class-action lawsuit recently filed on behalf of Huffington Post's unpaid bloggers. HuffPo was recently sold to AOL for $315 million. As Prupis reports, "the class-action suit, filed by freelance journalist Jonathan Tasini, alleges that the posts created by unpaid writers were worth an estimated $105 million, and that the profit should have been used as compensation."
HuffPo founder Arianna Huffington is quoted as saying, "The vast majority of our bloggers are thrilled to contribute – and we're thrilled to have them."
Yet the merger—and the lawsuit—highlight one of the biggest issues facing contemporary journalism: The devaluation of intellectual property. For that reason, a number of former bloggers have instituted a boycott of HuffPo. As Prupis notes, "The Newspaper Guild of America, the National Writers Union and the AFL-CIO have all endorsed the boycott, with many of their members refusing to contribute to the web site until Huffington agrees to talk with the unions about how best to approach the changing landscape of online journalism."
Rural Broadband Access Still Slow
Mark Scheerer of Public News Service tackles the issue of broadband access in rural communities – an important topic in a down economy, since faster connectivity could result in economic stimulus for small businesses, such as livestock farmers.
A new report (PDF at link) issued by the Center for Rural Strategies concludes that "communities without broadband service could be hobbled economically, losing the race to those with faster connections."
Farmers in places like Stamping Ground, Kentucky, Scheerer says, are paying for high-speed broadband, yet receiving dial-up download speeds, which hinders efforts to "streamline and economize their livestock sales."
The report essentially mirrors the FCC's 2010 findings: "broadband providers are not expanding their services in a timely and satisfactory fashion."
Activists Push Back Against Verizon Antenna
As Oakland Local's Dennis Rowcliffe reports, a proposal by Verizon to install a powerful cellular antenna close to two schools and several residential units has been met with opposition by community groups.
"The residents, school parents and teachers express concerns about the potential health effects of sustained nearby exposure to increased levels of the electromagnetic frequency, or EMF, radiation emitted by the antennas," Rowcliffe writes, adding that a group called East Bay Residents for Responsible Antenna Placement (EBR-RAP) has suggested several alternate sites, all of which were rejected by Verizon.
Verizon executive John Johnson is quoted as saying, "Please note that we intend to retain our rights to the city-approved location and to use it as the project site if we are unable to identify a viable alternative after further review."
However, EBR-RAP members say they intend to keep up the pressure on Verizon until an alternate site is found.
This is a project of The Media Consortium, a network of leading independent media outlets. This post features links to the best independent, progressive reporting about media policy and media-related matters by members of The Media Consortium. It is free to reprint. To read more of the Wavelength, click here. And for the best progressive reporting on critical economy, environment, health care and immigration issues, check out The Audit, The Mulch, and The Diaspora. This is a project of The Media Consortium, a network of leading independent media outlets, and is produced with the support of the Media Democracy Fund.
by Catherine A. Traywick, Medica Consortium blogger
A year ago this month, Arizona Governor Jan Brewer signed SB 1070 into law, effectively pushing an already vibrant anti-immigrant movement to a new extreme. Over the following months, immigrant rights advocates prepared for the worst, and grappled with multiple setbacks as other states threatened to follow Arizona's example.
Looking back, though, it's clear that the draconian immigration law hasn't quite measured up to its bad reputation—in part because a federal injunction blocked several of its more pernicious provisions. Kent Peterson at New America Media/Frontera NorteSur suggests that anti-immigrant policymakers "overreached" with SB 1070, pushing the restrictionist movement to its own peak with the controversial law.
Arizona's political influence has waned
Certainly in the long term, the law seems to have done more harm than good to the movement. While it initially added plenty of fuel to the restrictionists' fire, it has ultimately failed to spread through other states the way many expected it to. While a few states (see Colorlines.com's infographic or Alternet's rundown) are still considering SB1070-type laws, most others have backed off the idea.
As Seth Hoy explains at Alternet/Immigration Impact, "states learned from Arizona — the numerous protests, Supreme Court challenge, costly litigation, economic boycotts that are still costing state businesses millions — and rejected similar laws." Peterson similarly notes that a number of states have moved away from Arizona's example because of SB 1070's unexpected economic consequences—chiefly, an estimated $769 million in economic and tax revenues lost as a result of boycotts.
Immigrants still marginalized
That's not say that the law has had no effect on immigrants. While a federal judge stayed several of its provisions last summer, SB 1070 proved to be a precursor to other insidious state laws targeting immigrants. Empowered by their success with SB 1070 and the ensuing media frenzy, state legislators quickly moved forward with several other harsh laws. As Feet in Two Worlds' Valeria Fernandez explains, many immigrants in Arizona continue to live in fear even though SB 1070 is only partially enacted. She writes:
When you talk to immigrants in the street, they'll tell you that not much has changed. Some continue to live in fear that they could be stopped by the police and deported. Others are having a difficult time getting work due to another Arizona law that harshly sanctions employers who hire undocumented immigrants.
At Colorlines.com, Seth Freed Wessler elaborates on the real impact of bills like SB 1070. He writes:
[The bills] send waves of fear and confusion into immigrant communities. … In the period since SB 1070 passed, uncounted numbers of immigrants have fled their homes in Arizona. … And the provisions in the law that were not blocked by the court, including one that makes it a crime to harbor or transport undocumented immigrants, put everyone at risk.
The role of the federal government
Nevertheless, Wessler points out that the federal government—not SB 1070 and not Arizona—is to blame for the brunt of the damage inflicted upon undocumented immigrants in the last year. Besides deporting record numbers of immigrant detainees and significantly expanding border enforcement, the Department of Homeland Security laid the groundwork for SB 1070 with its 287(g) program—which enabled local law enforcement to act as ICE agents. Adding insult to injury, President Barack Obama never came to close to fulfilling his campaign promise of passing comprehensive immigration reform.
Whether he will do so this year is up for debate, but many reform advocates remain skeptical after last year's ups and downs. As Marcos Restrepo of the American Independent reports, several immigrant rights activists voiced disappointment after Obama convened a White House meeting on immigration last Tuesday. Chief among the critics was Pablo Alvorado, director of the National Day Laborer Organizing Network, who said in a statement:
While we appreciate the President's effort to keep immigration reform on the national agenda, his actions belie his intent…If the President genuinely wanted to fix the broken immigration system, he would respond to the growing chorus of voices calling for the suspension of the secure communities program and move to legalize instead of further criminalize our immigrant communities.
The American Prospect's Gabriel Arana is similarly skeptical of both the president's approach to the problem, and his ability to enact meaningful reform:
On one hand, it is laudable that the president has revived the immigration debate, but there is a reason it died last year, even with Democrats in firm control of Congress and the executive branch. Instead of trying to tack immigration reform to an enforcement bill, the president should change the frame and stop talking about immigration as a national-security issue rather than an issue in its own right.
This post features links to the best independent, progressive reporting about immigration by members of The Media Consortium. It is free to reprint. Visit the Diaspora for a complete list of articles on immigration issues, or follow us on Twitter. And for the best progressive reporting on critical economy, environment, and health care issues, check out The Audit, The Mulch, and The Pulse. This is a project of The Media Consortium, a network of leading independent media outlets.
By Catherine A. Traywick, Media Consortium blogger
Too often, the immigration debate in this country ignores the role U.S. foreign policy plays in fueling unauthorized immigration. But as the Obama administration continues to stall on immigration reform in the United States—all the while moving forward with two contentious trade agreements with Colombia and Panama—the connections between the two are worth examining.
CAFTA impoverished Salvadoran famers
During President Obama's tour of Latin America last month, ongoing mass protests underscored the U.S. government's own hand in stimulating unauthorized immigration to its borders. Reporting on the president's visit to El Salvador, for example, Juan Gonzales of Democracy Now! notes that hundreds of Salvadorans gathered to demand the renegotiation of the Central American Free Trade Agreement (CAFTA), which devastated the country's agricultural sector, impoverishing and displacing farmers. Considered alongside the country's tragic history of U.S.-backed military repression (which Democracy Now! explores in greater detail), it should be no surprise that El Salvador is the second largest source of undocumented immigrants to the United States.
NAFTA displaces one million Mexican farmers
The first, of course, is Mexico—which has its own sordid history of U.S. involvement. As Michelle Chen at Colorlines.com explains, "the deregulation of agriculture under [the North American Free Trade Agreement in the 1990s] coincided with the devastation of Mexico's farm sector, displacing some one million farmers and driving many northward across the border in search of work."
While NAFTA created considerable economic opportunities for U.S. businesses eager to conduct business in low-wage Mexico, it also allowed American farmers to flood the Mexican market with government-subsidized corn—destroying the country's own corn industry and bankrupting thousands of agricultural workers.
Obama's 180 on Latin American policy
It's worth noting that Obama, during his presidential campaign, promised to overhaul NAFTA on the grounds that "our trade agreements should not just be good for Wall Street, it [sic] should also be good for Main Street." Yet, as Steve Ellner argues in the latest issue of In These Times, Obama gradually abandoned his initially critical stance on Latin American policy—choosing instead to "placate rightist critics." Ellner adds that Obama's shifting position on the pending (CAFTA-modeled) trade agreement with Colombia—moving "from opposition…to lukewarm endorsement…to vigorous support—is just one example of his turnabout on Latin American policy."
While Obama has taken some steps to address potential labor abuses in the agreement (NAFTA and CAFTA's absence of such measures is a key criticism of the deals), trade unionists in Colombia and the United States alike have voiced skepticism:
Communications Workers of America President Larry Cohen argued against the agreement by pointing out that 15 million Colombians representing 82 percent of the working population are not recognized as workers and thus under the law "have no rights."
Big Business funds paramilitary killings in Colombia
The skepticism is well founded, as the United States has a long history of favoring business interests over the rights of workers—both at home and abroad. Earlier this month, for instance, evidence surfaced that the Cincinnati-based Chiquita Brands International may have hired Colombian paramilitary groups "responsible for countless killings" as security for its Colombian facilities. This is in spite of the fact that the U.S. Department of Justice (DOJ) concluded an investigation of Chiquita in 2007, ruling that any money paid out to the paramilitary groups—one of which was a designated terrorist watch group—was extorted, and that "Chiquita never received any actual services in exchange for them."
Jim Lobe and Aprille Muscara of Inter Press Service report that the documents were released by the National Security Archive (NSA), an independent research group, on the same day that President Obama met with Colombian President Juan Manuel Santos to discuss labor rights in the pending trade agreement. According to Michael Evans, NSA's chief researcher on Colombia, the evidence against Chiquita is clear.
"What we still don't know is why U.S. prosecutors overlooked what appears to be clear evidence that Chiquita benefited from these transactions," he told IPS.
U.S. banks launder billions for Mexican drug cartels
Even more recently, news broke that the federal government failed to prosecute a number of U.S. banks guilty of laundering billions of dollars for Mexican drug cartels. New America Media/Al Diá reports that Wachovia (now owned by Wells Fargo) alone moved $378.4 billion for cartels through money exchangers and $4.7 billion handled in bulk cash between 2004 and 2007. Yet this past March, the federal government formally dropped all charges against the bank, per a settle agreement reached the previous year, and despite Wachovia's indirect role in financing a five-year drug war that has taken countless lives and continues to drive unauthorized immigration to the United States.
This post features links to the best independent, progressive reporting about immigration by members of The Media Consortium. It is free to reprint. Visit the Diaspora for a complete list of articles on immigration issues, or follow us on Twitter. And for the best progressive reporting on critical economy, environment, and health care issues, check out The Audit, The Mulch, and The Pulse. This is a project of The Media Consortium, a network of leading independent media outlets.
What do Net Neutrality, gender equality, journalistic integrity, and wireless hegemony have in common (besides alliteration)? Find out this week in the Wavelength.
By Lindsay Beyerstein, Media Consortium blogger
Florida Republican Governor Rick Scott plans to force public workers and welfare recipients to undergo random drug testing every three weeks. Why? Because he doesn't like either group, Cenk Uygur argues on the Young Turks. "It's an attempt to stigmatize, demonize, and punish those people," Uygur says: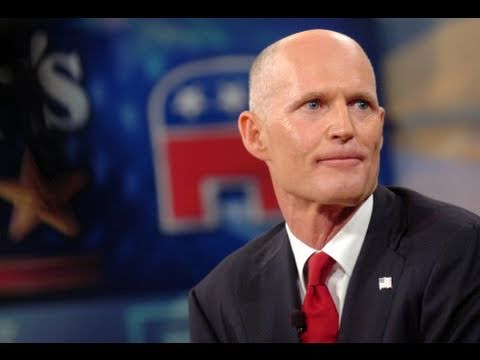 Suzy Khimm of Mother Jones explains why Scott's plan is almost certainly unconstitutional. The Supreme Court has ruled that public employees cannot be forced to take drug tests unless public safety is at stake. The government can impose random drug testing for bus drivers, but not clerks at the DMV. Scott wants to spend millions of dollars testing all state employees. The only beneficiary of Scott's plan will be the drug-testing industry.
From vitamins to purity balls
Martha Kempner of RH Reality Check profiles Leslee Unruh, the eccentric vitamin saleswoman-turned-crisis pregnancy center maven and abstinence crusader who is spearheading the drive for increasingly draconian abortion restrictions in South Dakota.
Unruh founded a crisis pregnancy center in 1997. Gradually, she became convinced that cajoling unhappily pregnant women to give birth was backwards. What she needed to do was save women from sex in the first place:
As Amanda Robb explains in her 2008 expose on Unruh published in MORE Magazine: "after working with hundreds of women who got pregnant unintentionally, she says she began to realize that this kind of counseling put the cart before the horse in women's lives. To truly empower women, she became convinced, you have to 'save them from sexual activity.'"
Unruh's Abstinence Clearinghouse is famous for sponsoring "purity balls" at which fathers promise to guard their daughters' sexual purity until marriage.
My uterus is a closed shop
Last weekend the Wisconsin AFL-CIO held a rally with Planned Parenthood in Madison, Wisconsin, Mike Elk reports for Working In These Times. Elk writes:
The labor movement, at its core, is about class struggle – the working class overcoming the power of the owning class in order to take control over their own lives. For women, class struggle historically has centered on overcoming the oppression of men who want to have control over their lives.
It makes sense that organized labor and the reproductive rights movement are being drawn closer together. Wisconsin Republican Governor Scott Walker has declared war on unions and reproductive health care. Walker's notorious anti-collective bargaining bill also declared war on the state's highly successful, money-saving family planning program.
The Walker administration declared the union-busting bill to be law last Friday, in defiance of a court ruling, Matthew Rothschild reports in The Progressive. A court had ruled that the legality of the bill was in question because it seems to have been passed in defiance of the state's strong open meetings laws.
De-funding family planning
Some Minnesota Republicans are taking a page from Scott Walker's playbook, Andy Birkey reports in the Minnesota Independent. A group of Republican state senators are working to de-fund the state's family planning programs by cutting off state funding and refusing federal dollars to fund these initiatives. An estimated 40,000 people receive reproductive health care each year through programs that the GOP is trying to eliminate. Their position is surely not motivated by concerns about the deficit. Joint state-federal family planning programs have been shown to save money for the state and the federal government.
HIV/AIDS at 30
This year marks the 30th anniversary of the beginning of the HIV/AIDS epidemic. At Colorlines.com,  LaShieka Purvis Hunter profiles a distinguished community leader in the struggle against HIV, Rev. Edwin Sanders of the Metropolitan Interdenominational Church in Nashville, Tennessee. Sanders and his congregation have been engaged in the struggle for 26 years, ever since one of the founding members of this predominantly black church died of the virus.
Saunders says that, as far as he knows, his is the only African American congregation operating an HIV/AIDS primary care clinic:
"There are other congregations with primary care clinics that do other things, but ours is exclusively focused on HIV/AIDS," he explains. "We were really fortunate to get a planning grant from the URSA Institute  about 10 years ago, and have a fully operating clinic four years after that. Now we are able to serve a population in our community that represents those who are truly disenfranchised."
The URSA Institute is a non-profit social interest consulting firm which supports HIV/AIDS-related research and prevention programs.
Dig for victory
Spring is here. Ellen LaConte of AlterNet explains why gardening is good for your health and your pocketbook. Produce prices are rising, thanks to increasing oil prices, dwindling  soil reserves, monoculture, and other factors. LaConte predicts that gardening and small-scale collective farming will become an increasingly important source of fresh fruits and vegetables for average Americans in the years to come.
This post features links to the best independent, progressive reporting about the economy by members of The Media Consortium. It is free to reprint. Visit the Audit for a complete list of articles on economic issues, or follow us on Twitter. And for the best progressive reporting on critical economy, environment, health care and immigration issues, check out The Mulch, The Pulse and The Diaspora. This is a project of The Media Consortium, a network of leading independent media outlets.
By Catherine A. Traywick, Media Consortium blogger
Arizona's business leaders, frustrated by the deep financial fallout of increasingly radical immigration proposals, successfully swayed state lawmakers into defeating five extremist anti-immigrant bills.
New America Media's Valeria Fernández reports that 60 executives from the likes of WellsFargo bank and U.S. Airways penned an open letter to state Senate President Russell Pearce last week, urging him to leave immigration policy to federal government. Julianne Hing at Colorlines.com has posted the letter in full, but here's the gist:
Last year, boycotts were called against our state's business community, adversely impacting our already-struggling economy and costing us jobs. Arizona-based businesses saw contracts cancelled or were turned away from bidding. Sales outside of the state declined … It is an undeniable fact that each of our companies and our employees were impacted by the boycotts and the coincident negative image […] Arizona is looking like a nativist, restrictive and intolerant place, and that's bad for business.
The legislature subsequently voted down five controversial measures that sought to redefine citizenship and ban undocumented immigrants from hospitals and public schools, among other provisions.
Pearce, whose behind-the-scenes maneuvering repeatedly saved the contentious bills from dying much sooner, has vowed to continue pushing his agenda by voter referendum, if necessary. If he does, he may have more success. Arizonans have repeatedly voted in favor of harsh anti-immigrant proposals, including measures that stripped undocumented college students of financial assistance, banned ethnic studies, and ended equal opportunity programs.
Arizona's business leaders overlook immigrant workers
It's worth noting, though, that while the letter's signatories handily criticized the legislature's immigration agenda for negatively impacting the state's economy, they had almost nothing to say about its detrimental impact on the state's workers—a considerable proportion of whom are  immigrants. Instead, they urge "market driven immigration policies" that will "preserve our ability to compete in the global economy" — language that is more evocative of labor-exploitative capitalism than worker solidarity.
Their calls for "the creation of a meaningful guest worker program" are similarly suspect. While the notion of a "meaningful guest worker program" that would legalize certain undocumented immigrants living in the U.S. may, on the surface, seem like a sympathetic solution—particularly in light of the federal government's failure to move forward with any kind of comprehensive immigration reform—it nevertheless poses dire implications for undocumented workers.
Utah's guest worker proposal evokes Bracero program abuses
As David Bacon at In These Times posits, "guest workers" whose legal status is contingent on their employment situation are uniquely vulnerable to workplace abuse and exploitation, and could face labor conditions "close to slavery." The Bracero Program, a guest worker initiative which imported Mexican laborers primarily for work in agriculture between 1942 and 1964, stands out as stark example of the dark side of guest worker programs. Bacon explains:
Braceros were treated as disposable, dirty and cheap. Herminio Quezada Durán, who came to Utah from Chihuahua, says ranchers often had agreements between each other to exchange or trade braceros as necessary for work. Jose Ezequiel Acevedo Perez, who came from Jerez, Zacatecas, remembers the humiliation of physical exams that treated Mexicans as louse-ridden.

"We were stripped naked in front of everyone," he remembers, and sprayed with DDT, now an outlawed pesticide. Men in some camps were victims of criminals and pimps.
Arizona isn't the only state to toy with the idea of establishing a guest worker program. In an effort to distance itself from Arizona's contentious and economically disastrous immigration agenda, Utah—a fiercely red state and Arizona's northern neighbor—is considering creating its own guest worker program, according to the Texas Observer's Victor Landa. The law would grant legal residency to working, undocumented residents who do not commit serious crimes.
While Landa notes that the purportedly progressive measure nevertheless runs afoul of federal immigration laws (only the federal government can grant immigration status), the bill presents other issues. One must stay employed or lose residency—a circumstance that would strip employees of bargaining power while granting their employers an inordinate amount of license in the workplace. In practical terms, that doesn't much change the existing workplace dynamics of undocumented immigrants, who frequently endure exploitation and abuse without recourse.
Labor unions vs. worksite immigration enforcement
What's more: Exploitative employers generally get off scot free even when targeted by employer sanctions efforts; it's the workers, not employers, who bear the brunt of the federal government's worksite immigration enforcement. For this reason, a Services Employees International Union (SEIU) leader, Javier Morillo, has condemned the Department of Homeland Security's emhasis on workplace raids and employer verification, according to Nicolas Mendoza at Campus Progress.
Responding to the termination of 250 unionized janitors in Minnesota following an I-9 audit—a verification process through which the federal government can ask businesses to check the immigration statuses of their employees—Morillo said:
Under the leadership of Secretary Napolitano the federal government has become an employment agency for the country's worst employers. With each I-9 audit, the government is systematically pushing hardworking people into the underground economy where they face exploitation… Let's be clear: I-9 audits, by definition, do not go after egregious employers who break immigration laws because many of them do not use I-9 forms. Human traffickers do not ask their victims for their social security cards. [emphasis added]
Mendoza notes that the federal government's employer verification programs rely on the honesty of employers and rewards them for firing undocumented workers, rather than sanctioning businesses for hiring them. Workers pay the price, while employers get off.
This post features links to the best independent, progressive reporting about immigration by members of The Media Consortium. It is free to reprint. Visit the Diaspora for a complete list of articles on immigration issues, or follow us on Twitter. And for the best progressive reporting on critical economy, environment, and health care issues, check out The Audit, The Mulch, and The Pulse. This is a project of The Media Consortium, a network of leading independent media outlets.
By Catherine A. Traywick, Media Consortium blogger
Stricter immigration enforcement and reduced economic opportunities in Arizona has pushed many undocumented immigrants out of the state to look for work.
While restrictionist lawmakers, whose stated objective over the last year has been to drive attrition through enforcement, are satisfied, it's not exactly the outcome they've been waiting for. Rather than return to their home countries, most immigrants are instead relocating to surrounding states — a trend that's prompting legislators in other states to approach immigration reform in radically different ways.
Oklahoma Absorbs Arizona Emigrants
Oklahama is experiencing a considerable influx of undocumented immigrants fleeing Arizona, according to Kari Lydersen at Working In These Times. The rising immigrant population has created friction among residents, some of whom believe that undocumented migrants are taking jobs away from Oklahomans. In response, state lawmakers have introduced a bill known as "Arizona Plus," which incorporates many of Arizona's more controversial laws, in an effort to expel immigrants in much the same way that Arizona's existing immigrations laws attempt to do. Lydersen explains:
State Senator Ralph Shortey (R) and Shannon Clark, a Tulsa police officer in charge of enforcing the city's 287(g) immigration program, said workers including masons and tile workers have been greatly affected by the influx of immigrant workers from Arizona. Employers and civil rights leaders have decried the proposed Arizona Plus measure and other recently introduced anti-immigrant laws, saying that immigrants provide a crucial part of the state's workforce, especially in areas with otherwise aging and declining populations.
There remains disagreement about the actual economic impacts of unauthorized immigration. As state Senator Andrew Rice (D) told Lydersen, many of Oklahoma's incoming immigrants are assuming low-wage jobs that citizens are not even bothering to apply for.
Immigrants are an economic boon
Of course, numerous studies demonstrate that immigration actually bolsters economies rather than depressing them, effectively driving wages up and creating opportunities for American workers to move into more highly skilled fields, as Mikhail Zinshteyn of Campus Progress explains:
A study co-authored by George Borjas…shows without new waves of immigration, legal or otherwise, there would be far fewer businesses operating today because of an inadequate labor market. His partner on the paper, Lawrence F. Katz, co-authored another study that showed income inequality in the bottom half of the economic ladder has not increased since the 1980s—meaning the huge spike in undocumented immigrants since 1990 has had no statistical effect on the economic fortunes of the Americans they allegedly affect.
Facts notwithstanding, pitting undocumented laborers against low-income American workers is a time-tested tactic of anti-immigrant politicos. It's effective too, even though — as Zinshteyn notes — many of its proponents also support myriad other policies that directly hurt low-income American laborers.
Utah proposes guest worker program for undocumented migrants
Meanwhile Utah's legislature is proposing to handle unauthorized immigration rather differently. New America Media reports that state lawmakers passed a bill last week that seeks to legalize and integrate undocumented laborers into the state's workforce. The measure would create two-year work visas for undocumented Mexican immigrants without a criminal record and their families, for fees ranging from $1,000-$2,500. Lawmakers hope to demonstrate that Utah, which is home to 110,000 undocumented immigrants, is a safer place for migrants than Arizona.
Immigrant rights advocates are not as enthusiastic, however. Colorlines.com's Julianne Hing notes that the Utah legislature also passed enforcement and employer sanctions measures last week, which — while less draconian than Arizona's — nevertheless do their part to marginalize and oppress undocumented immigrants. Hing adds:
[Activists] argue that the benefits of the guest worker program will not be enough to mitigate the harm of harsh enforcement measures that will almost certainly lead to more exploitation and deportation.
Regardless, many others are lauding Utah's efforts to implement some kind of reform that legalizes undocumented immigrants living in the United States — particularly as Congress has yet to move forward with any attempt at comprehensive immigration reform.
This post features links to the best independent, progressive reporting about immigration by members of The Media Consortium. It is free to reprint. Visit the Diaspora for a complete list of articles on immigration issues, or follow us on Twitter. And for the best progressive reporting on critical economy, environment, and health care issues, check out The Audit, The Mulch, and The Pulse<. This is a project of The Media Consortium, a network of leading independent media outlets.