Posts tagged with 'health care assistance package'
by Lindsay Beyerstein, Media Consortium blogger
Last Thursday, Rep. Anthony Weiner (D-NY) launched into a righteous tirade against the GOP's attempts to derail a health care package for 9/11 first responders. His House floor antics became an instant viral video classic. Weiner and the House Dems were trying to pass a $7 billion health care assistance package for first responders, cleanup workers and others injured at Ground Zero in the wake of the 9/11 attacks, many of whom developed chronic and poorly-understood health problems as a result of their service.

The gentleman will sit down!
The original bill would have paid for the fund through a tax on foreign owned businesses operating in the United States. The Democrats were seeking a two thirds majority in House to prevent the Republicans from tacking on an amendment to pay for the package with money set aside for health care reform. Weiner exploded at his GOP colleagues for paying lip service to 9/11 heroes while refusing to pass the bill. The bill died, of course, and Rep. Peter King (R-NY) went back to rabble rousing about the proposed Islamic cultural center two blocks from Ground Zero.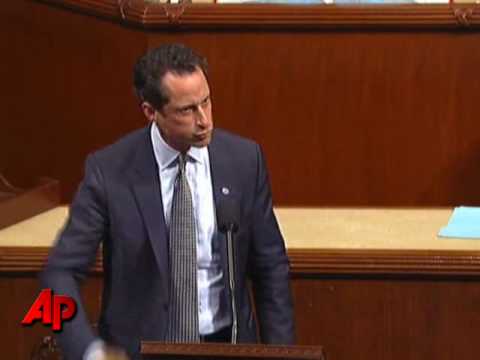 (more…)