Posts tagged with 'labor'
This year, International and Immigrant Workers' Day, May Day, will usher in a spring of protests fueled by the rise in anti-immigrant legislation and enforcement, a lopsided economic recovery that favors the few, and a reemergent Occupy movement poised to challenge corporate power.
If past coverage is any indication, corporate media will not tell the May Day story accurately or with depth or analysis. That's why more than 25 independent media outlets belonging to The Media Consortium are collaborating to provide coordinated, national coverage of May Day events from around the country.
Calling themselves "Media for the 99 Percent" (www.mediaforthe99percent.com), these diverse outlets will offer a live TV and streaming broadcast, an interactive map, breaking news reporting, and coordinated social media coverage across their sites, reaching a combined audience of more than 50 million Americans.
"With this May Day collaboration, independent media will show that live national coverage can reflect the breadth, diversity, and complexity of the American people," says Jo Ellen Green Kaiser, executive director of The Media Consortium.
Independent media outlets have stayed with the Occupy story through the winter with unparalleled reporting: books by YES! Magazine and AlterNet; a weekly "Occupy the Media" TV program by Free Speech TV; cover features by In These Times, The American Prospect, The Nation, and Mother Jones; in-depth and breaking news reporting by Truthout, Making Contact, the Public News Service, Free Speech Radio News, and many others.
On May Day, the Media for the 99 Percent outlets will leverage their existing platforms and reporters to provide coordinated national multimedia coverage, featuring:
An interactive Map: Find out where actions are happening across the country and follow the independent media's by-the-minute coverage with links to video, audio, photos, and blog reports.
Television and Live Stream Broadcast: Free Speech TV will broadcast live (and live streamed) news coverage throughout the day, featuring reports from around the U.S., as well as in-studio commentary.
Curated Social Media Coverage: Using the Storify platform, Media for the 99 Percent will offer a curated narrative of breaking news via blog updates, along with photos and social media posts from reporters on the ground.
All three content tools will be available for embedding by other news outlets and the public.
By Lindsay Beyerstein, Media Consortium blogger
Florida Republican Governor Rick Scott plans to force public workers and welfare recipients to undergo random drug testing every three weeks. Why? Because he doesn't like either group, Cenk Uygur argues on the Young Turks. "It's an attempt to stigmatize, demonize, and punish those people," Uygur says: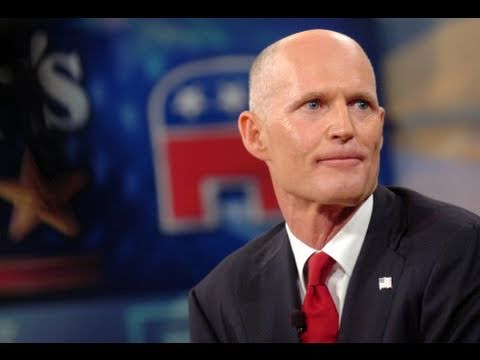 Suzy Khimm of Mother Jones explains why Scott's plan is almost certainly unconstitutional. The Supreme Court has ruled that public employees cannot be forced to take drug tests unless public safety is at stake. The government can impose random drug testing for bus drivers, but not clerks at the DMV. Scott wants to spend millions of dollars testing all state employees. The only beneficiary of Scott's plan will be the drug-testing industry.
From vitamins to purity balls
Martha Kempner of RH Reality Check profiles Leslee Unruh, the eccentric vitamin saleswoman-turned-crisis pregnancy center maven and abstinence crusader who is spearheading the drive for increasingly draconian abortion restrictions in South Dakota.
Unruh founded a crisis pregnancy center in 1997. Gradually, she became convinced that cajoling unhappily pregnant women to give birth was backwards. What she needed to do was save women from sex in the first place:
As Amanda Robb explains in her 2008 expose on Unruh published in MORE Magazine: "after working with hundreds of women who got pregnant unintentionally, she says she began to realize that this kind of counseling put the cart before the horse in women's lives. To truly empower women, she became convinced, you have to 'save them from sexual activity.'"
Unruh's Abstinence Clearinghouse is famous for sponsoring "purity balls" at which fathers promise to guard their daughters' sexual purity until marriage.
My uterus is a closed shop
Last weekend the Wisconsin AFL-CIO held a rally with Planned Parenthood in Madison, Wisconsin, Mike Elk reports for Working In These Times. Elk writes:
The labor movement, at its core, is about class struggle – the working class overcoming the power of the owning class in order to take control over their own lives. For women, class struggle historically has centered on overcoming the oppression of men who want to have control over their lives.
It makes sense that organized labor and the reproductive rights movement are being drawn closer together. Wisconsin Republican Governor Scott Walker has declared war on unions and reproductive health care. Walker's notorious anti-collective bargaining bill also declared war on the state's highly successful, money-saving family planning program.
The Walker administration declared the union-busting bill to be law last Friday, in defiance of a court ruling, Matthew Rothschild reports in The Progressive. A court had ruled that the legality of the bill was in question because it seems to have been passed in defiance of the state's strong open meetings laws.
De-funding family planning
Some Minnesota Republicans are taking a page from Scott Walker's playbook, Andy Birkey reports in the Minnesota Independent. A group of Republican state senators are working to de-fund the state's family planning programs by cutting off state funding and refusing federal dollars to fund these initiatives. An estimated 40,000 people receive reproductive health care each year through programs that the GOP is trying to eliminate. Their position is surely not motivated by concerns about the deficit. Joint state-federal family planning programs have been shown to save money for the state and the federal government.
HIV/AIDS at 30
This year marks the 30th anniversary of the beginning of the HIV/AIDS epidemic. At Colorlines.com,  LaShieka Purvis Hunter profiles a distinguished community leader in the struggle against HIV, Rev. Edwin Sanders of the Metropolitan Interdenominational Church in Nashville, Tennessee. Sanders and his congregation have been engaged in the struggle for 26 years, ever since one of the founding members of this predominantly black church died of the virus.
Saunders says that, as far as he knows, his is the only African American congregation operating an HIV/AIDS primary care clinic:
"There are other congregations with primary care clinics that do other things, but ours is exclusively focused on HIV/AIDS," he explains. "We were really fortunate to get a planning grant from the URSA Institute  about 10 years ago, and have a fully operating clinic four years after that. Now we are able to serve a population in our community that represents those who are truly disenfranchised."
The URSA Institute is a non-profit social interest consulting firm which supports HIV/AIDS-related research and prevention programs.
Dig for victory
Spring is here. Ellen LaConte of AlterNet explains why gardening is good for your health and your pocketbook. Produce prices are rising, thanks to increasing oil prices, dwindling  soil reserves, monoculture, and other factors. LaConte predicts that gardening and small-scale collective farming will become an increasingly important source of fresh fruits and vegetables for average Americans in the years to come.
This post features links to the best independent, progressive reporting about the economy by members of The Media Consortium. It is free to reprint. Visit the Audit for a complete list of articles on economic issues, or follow us on Twitter. And for the best progressive reporting on critical economy, environment, health care and immigration issues, check out The Mulch, The Pulse and The Diaspora. This is a project of The Media Consortium, a network of leading independent media outlets.
By Lindsay Beyerstein, Media Consortium blogger
Michigan's new Emergency Manager Law is already forcing major concessions from unions. The law gives the governor the power to declare a city insolvent and appoint an emergency manager with virtually unlimited power to reorganize every aspect of city business, including dissolving the city entirely. The emergency manager even has the power to terminate collective bargaining agreements.
As a result of these expanded new powers, public employees unions in some Michigan municipalities are already making large preemptive concessions to keep their cities from tripping any of the "triggers" in the new law that might give the governor an opening to send in a union-busting emergency manager, Eartha Jane Melzer reports in the Michigan Messenger.
In Flint, the firefighters' union agreed to increase contributions to health insurance and give up holiday pay and night shift differentials. Flint Firefighters Union President Raul Garcia told the Wall Street Journal that these concessions were driven by fear of a state takeover of Flint. "I would rather give concessions that I would like than have an [emergency financial manager] or something of that magnitude come in and say this is what you are going to do," Garcia said.
The new law also gives the Emergency Manager the power to privatize prisons, Melzer notes.
Detroit grows green
The citizens of Detroit aren't waiting around for an emergency manager to take over. The city's industrial economy is dying, but its grassroots economy is stirring to life, Jenny Lee and Paul Abowd report in In These Times. Detroit residents have been growing their own food in town for decades, but recently activists and the city have joined forces to link many small producers into a network that will provide food security for the city.
Wal-Mart and wage discrimination
Next week, the Supreme Court will take up the case of 100 women who are suing Wal-Mart for wage discrimination. As Scott Lemieux explains in The American Prospect, the Court will decide whether these women can band together to sue the nation's largest retailer, or whether each must sue the firm individually.
Lemieux argues that, for the sake of women's rights at work, it is very important that these Wal-Mart employees be allowed to sue together instead of one at a time:
Given the compelling stories these individual women can tell, does it matter whether they can file suit collectively? Absolutely, for at least two reasons. First of all, only a class-action suit can properly create a record of the systematic gender discrimination at Wal-Mart. Any individual case can be dismissed as an anomaly or a misunderstanding, but the volume of complaints makes clear that gender discrimination was embedded deeply within the culture of the corporation, a very relevant fact for a discrimination suit.
Litigation is expensive and time-consuming, for the individuals and for the court system. Forcing victims of discrimination to sue one by one makes it less likely that they will seek justice, especially if they're suing because they were underpaid in the first place. Wal-Mart claims that the class is too large to be allowed to proceed, and that the women couldn't possibly have similar enough claims. But as Lemieux points out, the class is huge because Wal-Mart is huge.
War and the deficit
Jamelle Bouie writes at TAPPED, in response to the United States' new military commitments in Libya:
I just wish we could at least acknowledge the obvious truth: conservatives don't care about deficits but will use them to cut spending on poor people. When it comes to things they like — wars, for instance — they're willing to pay any price.
The U.S. fired 110 Tomahawk Missiles at Libya on Saturday, at an estimated total cost of $81 million, or 33 times the annual federal funding for National Public Radio.
Sally Kohn of TAPPED notes that the United States scraped together $2.3 million worth of "blood money" to pay off the families of the victims of Raymond Davis, a rogue CIA operative who shot and killed two men who tried to rob him in Pakistan. Laura Flanders of GRITtv calculates that $2.3 million ransom for a single killer would have paid the salaries of 45 Wisconsin public school teachers for a year.
Public pensions 101
We often hear that public pensions are unfunded. On the Breakdown, Chris Hayes of The Nation asks economist Dean Baker what this actually means. Baker explains that s0-called "defined benefit" pensions have become rare in the private sector, but remain relatively common in the public sector. A defined benefit pension guarantees the pensioner a certain income. Most private sector pensions are so-called "defined contribution" plans, which means that employer puts aside a certain amount of money each month for the employee, but there's no guarantee how much return the pensioner will eventually get on that investment.
A state pension fund is considered unfunded if the assets the fund has today aren't sufficient to cover the defined benefits that are due to workers over the next 30 years. Baker notes that many funds are a lot healthier than they look because their values were calculated at the nadir of the stock market in 2009. The market has since made up a large percentage of that ground. A handful of states were mismanaging their pension funds, but most states have been responsible.
Ethical outlaws
Bea is a manager of a big-box chain store in Maine. The company pays her staff between $6 and $8 an hour and many are struggling. Even as she tries to keep a professional atmosphere in the store, Bea has been known to bend the rules to help an employee in need, as Lisa Dodson describes in YES! Magazine:
When one of her employees couldn't afford to buy her daughter a prom dress, Bea couldn't shake the feeling that she was implicated by the injustice. "Let's just say … we made some mistakes with our prom dress orders last year," she told me. "Too many were ordered, some went back. It got pretty confusing." And Edy? "She knocked them dead" at the prom.
Andrew, a manager in the Midwest is quietly padding his employees' paychecks because he knows their wages aren't enough to live on. Andrew knows he might be accused of stealing, but he does it anyway because the alternative is unthinkable.
Dodson interviewed hundreds of low- and middle-income people about the economy between 2001 and 2008. Along the way, she stumbled on what she calls "the moral underground," a world where managers bend the rules at corporate expense to enable their low-wage staff to get by. It is legal to pay people less than a living wage, but increasing numbers of people like Bea and Arthur have decided that the situation is morally unacceptable, and quietly acted accordingly.
This post features links to the best independent, progressive reporting about the economy by members of The Media Consortium. It is free to reprint. Visit the Audit for a complete list of articles on economic issues, or follow us on Twitter. And for the best progressive reporting on critical economy, environment, health care and immigration issues, check out The Mulch, The Pulse and The Diaspora. This is a project of The Media Consortium, a network of leading independent media outlets.
by Lindsay Beyerstein, Media Consortium blogger
In a shocking move, Republicans in the Wisconsin state Senate convened in the Capitol on Wednesday night to pass a union-busting bill without a quorum. The bill passed the State Assembly on Thursday afternoon, and Gov. Scott Walker signed it into law this morning. The Democratic state senators have returned from exile. Now, activists are shifting their attention to recall campaigns, court challenges, and even a general strike.

Madison Firefighters Union President Joe Conway was in the Capitol on Wednesday night to witness what he called "a criminal act by the Republicans" and "game changer for everyone." Conway called for a general public strike.
John Nichols of the Nation describes the procedural move the Republicans used to pass the bill without a quorum, on what he calls "one of the most remarkable days in American political history":
After weeks of intense debate inside and outside the Capitol, and at a point when most Wisconsinites thought a compromise was in the offering, Republican legislative leaders suddenly announced that they would pass the most draconian components of Governor Scott Walker's budget repair bill – including a move to strip public employees of their collective bargaining rights.
At this point, the 14 Senate Democrats were still in exile in Illinois, attempting to deny the Republicans the quorum they needed to pass the bill. Under Wisconsin law, the state Senate only needs a quorum to pass non-fiscal legislation. So, the Republicans ostensibly stripped out all the fiscal language from the bill and passed it hastily, without hearings or debate, in the dead of night.
Budgetary hypocrisy
Micah Uetricht and George Warner of Campus Progress call this "non-fiscal" dodge the height of hypocrisy. For weeks, Walker has justified stripping unions of their bargaining rights as a measure needed to balance the budget. The bill clearly affects the state's budget, arguably making it a fiscal bill in disguise, and possibly opening the door to a court challenge. If it is a financial bill after all, then the state Senate didn't have the power to pass it without a quorum.
Uetricht and Warner also note that the South Central Federation of Labor, the labor council that represents unions in the Madison area, with a combined membership of 45,000 workers, voted in February to begin preparations for a general strike.
The Progressive's Matthew Rothschild, who was at the Capitol, estimates that 15,000 people converged there as word spread that the bill had been passed. Cries of "General Strike!" rang out in the Capitol on Wednesday night.
As I reported in Working In These Times, the Senate Republicans may have violated Wisconsin's strict open meetings law, which requires 24 hours' notice for meetings, unless there's some kind of emergency that prevents organizers from getting the word out earlier, in which case, a minimum of 2 hours' notice is still required. The Senate was in emergency session, but nobody is claiming that there was any kind of real-life emergency that prevented the Republicans from notifying the public in a timely manner.
Andy Kroll of Mother Jones notes that the bill would allow the state to fire public employees who join a strike, walk-out, sit-in, or make a coordinated effort to call in sick.
Here's more news from Wisconsin:
Wisconsin isn't the only state waging war on the collective bargaining rights of public employees. Ohio's Republican governor and Republican-controlled legislature are poised to restrict the collective bargaining rights of 350,000 public servants. Michigan seems poised to pass a "hostile takeover" bill that would give the Republican governor unchecked power to declare cities bankrupt and appoint a manager who could cancel union contracts. In Indiana, state House Democrats are boycotting the legislature in an attempt to derail anti-union legislation.
Michigan
Michigan's Republican-controlled state senate passed and sent back to the state house a "hostile takeover" bill that would give the governor the power to declare cities insolvent and appoint a city manager, who in turn, could cancel collective bargaining agreements and sell off city property without anyone else's approval, Adele Stan notes in AlterNet. Hundreds of pro-union demonstrators rallied in the state capital of Lansing on Tuesday to protest the measure.
Eartha Jane Melzer reports in the Michigan Messanger that the bill is on the fast track to passage, despite raising serious constitutional questions about the limits of executive power. "This is a takeover by the right wing and it's an assault on democracy like I've never seen," Michigan State AFL-CIO president Mark Gaffney said.
Indiana
Republicans in Indiana have had their sights set on public sector unions since they took the General Assembly in 2010. Huge crowds gathered in Indianapolis on Thursday in support of union rights. This was the 18th day of uninterrupted union protests outside the state House. Police estimated a turnout of 8,000. Democratic lawmakers, who had fled the state to prevent the passage of an anti-collective bargaining bill, said they had no plans to return.
Ohio
About 3,200 people gathered at the Statehouse in Ohio to protest a bill that would severely limit the collective bargaining rights of some 350,000 public workers including teachers, firefighters, and police. Democrats say they will fight to recall the bill if it is signed into law. Mark Miller of Change.org summarizes the key provisions of the bill, SB 5, which recently passed the state Senate. Ohio Democrats are trying to stall the progress of the legislation by demanding public hearings. Unlike their counterparts in Indiana and Wisconsin, they don't have enough seats to deny the Republicans a quorum by leaving the state.
The public sector is the last bastion of high union density in the United States because public sector workers have historically been protected from the kind of union-busting tactics that are routine in the private sector. If the public sector unions are destroyed, the U.S. labor movement will die with them. The very future of the middle class is at stake.
This post features links to the best independent, progressive reporting by members of The Media Consortium. It is free to reprint. Follow us on Twitter.  For the best progressive reporting on critical economy, environment, health care and immigration issues, check out The Audit, The Mulch, The Pulse, and The Diaspora. This is a project of The Media Consortium, a network of leading independent media outlets.
By Lindsay Beyerstein, Media Consortium blogger
We all have our limits. The GOP's crusade against Planned Parenthood is officially too crazy for right-wing philanthropist and media baron Richard Mellon Scaife.
In a recent op/ed column, Scaife broke with House Republicans over their resolution to de-fund Planned Parenthood and the entire Title X family planning program, Scot Kersgaard reports in the Minnesota Independent. Scaife writes that Margaret Sanger, the founder of Planned Parenthood, was friends with his grandmother.
Sanger was apparently a good influence on young Richard. Scaife reminisces in the Pittsburgh Union Tribune:
I met Sanger several times before her death in 1966 and was impressed by her intellect and her commitment to many issues, not the least of which was enabling every woman to be "the absolute mistress of her own body," as she put it.
As Scaife points out in his column, the campaign to de-fund Planned Parenthood is being orchestrated by anti-abortion activists, but abortion is only a small part of the organization's mission. He notes that over 90% of Planned Parenthood's budget goes towards preventing unplanned pregnancies. Furthermore, 0% of Planned Parenthood's federal funding goes toward abortions.
Peeping Toms
Amanda Marcotte writes in AlterNet about the lecherous face of the modern anti-choice movement. Humiliating women in the name of saving fetuses has become a cherished project of the anti-choice movement. Since Roe v. Wade, states have been limited in their ability to directly restrict abortions. So, one tried and true strategy to separate women from their constitutional rights without actually banning abortions is to throw up as many degrading hurdles as possible.
Some states force women to view their own ultrasounds before they can terminate their pregnancies. Others make health care providers deliver a canned speech about how abortion is killing a person. South Dakota, Marcotte notes, is weighing a bill to force women to attend so-called "crisis pregnancy centers," which are not health care facilities at all, but rather anti-choice propaganda outlets.
Marcotte also details a new bill in Kansas that would require minors seeking abortions without parental permission to submit to interrogation by a mental health professional–as if seeking an abortion were evidence of a mental illness. Ostensibly, this interview is to determine whether the teen is mature enough to make her own decision about abortion, but the real impetus seems to be to make the bypass process as humiliating as possible in the hopes that more young women will give up and bear children.
The larger context
Ilyse Hogue of The Nation explains why the right went after Planned Parenthood, ACORN, and the public sector unions:
[W]hile it's obvious that the right wing is out to break the back of the progressive movement, it's easy to miss the strategy that guides their selection of specific targets. Their attacks are all carefully aimed at the same critical juncture: institutions that work for people in their daily lives and in the political arena, those that connect people's personal struggles across the country to the political struggle in Washington. Once we recognize the critical role these progressive service organizations play in building progressive politics, the right's broader strategy in Wisconsin and elsewhere becomes clear. Scott Walker is a soldier in the same army as James O' Keefe and Lila Rose, the right-wing video pranksters who tried to smear ACORN and Planned Parenthood.
Drug fiends
Pharmaceutical companies are getting sweet taxpayer subsidies, Terry J. Allen reports for In These Times. The Obama administration is poised to spend $1 billion to help pharmaceutical companies develop new drugs. Of course, developing new drugs could be a great investment, but not the way the government wants to set up the program. Allen explains:
The new project "is outrageous," says Marcia Angell, former editor of the New England Journal of Medicine. Public subsidies for drug research, she says, mean that "taxpayers pay twice, first for research and development [R&D], and then they pay high prices at drugstore."
If the federal government is going to invest tax dollars in drug development, it should only do so with a guarantee that all Americans will share in the benefits of this research in the form of affordable, accessible drugs.
"Dangerous gifts"
What is a mental illness? Making Contact talks to people whose thoughts and feelings set them apart, and who may meet psychiatry's criteria for mental illness, but who are questioning the labels that have been applied to them. The program also examines the work of the Icarus Project, a group of mental health activists who are looking beyond traditional models of defective brain chemistry and psychopathology.
These activists argue that reductive biological explanations for mental illness can be used to overshadow other equally important contributing factors. A strict biological or pschyodynamic model of mental illness depoliticizes profound questions about suffering and community. The Icarus Project is not opposed to psychiatric drugs, but encourages its members to regard drugs as one tool among many.
Also on Making Contact: What does mental health look like in a community where virtually everyone has been seriously traumatized by war? Andrew Steltzer goes inside a Somali refugee community in Minnesota to find out how residents are using modern and traditional strategies to heal themselves.
This post features links to the best independent, progressive reporting about health care by members of The Media Consortium. It is free to reprint. Visit the Pulse for a complete list of articles on health care reform, or follow us on Twitter. And for the best progressive reporting on critical economy, environment, health care and immigration issues, check out The Audit, The Mulch, and The Diaspora. This is a project of The Media Consortium, a network of leading independent media outlets.
By Lindsay Beyerstein, Media Consortium blogger
Tens of thousands of people continue their peaceful occupation of the Wisconsin state capital to protest a bill that would abolish most collective bargaining rights for public employees. As the protests entered their eighth day, GRITtv with Laura Flanders was broadcasting from Madison, Wisconsin in collaboration with The Uptake.
Flanders interviewed Nation journalist and seventh-generation Wisconsinite John Nichols. Nichols and fellow guest Matthew Rothschild of The Progressive noted that the bill isn't just an attack on collective bargaining rights. The bill would force public sector unions to hold recertification votes every year, which would put their very existence on the line annually. "The unions realize that this is a threat to their very existence," Rothschild explained. (more…)
By Lindsay Beyerstein, Media Consortium blogger
The most influential business lobby group in the United States has been linked to a scheme to deploy dirty tricks against its political opponents. Josh Harkinson reports for Mother Jones that prospective vendors for the Chamber of Commerce hatched a plan to frame and entrap critics of the Chamber.
The plan came to light last week after hackers released thousands of emails obtained from the servers of HBGary Federal, a private security company. The emails reveal Chamber law firm Hunton & Williams was looking for firms to help it execute a plot to entrap bloggers, union officials and other Chamber critics. The goal, according to Harkinson, was to manufacture evidence that all the Chamber's critics were working together to discredit the business group:
According to the emails, Chamber law firm Hunton & Williams wanted to hire digital sleuths that could demonstrate that the business group's opponents had been working as a "single entity instead of a true 'grasroots' campaign." That phrase and others suggest that the Chamber's ultimate goal was to openly accuse its foes of a left-wing form of astroturfing.
HBGary Federal was apparently planning to pitch its services as a "Corporate Information Renaissance Cell" to the Chamber yesterday. The emails show that HBGary Federal and two other firms, Berico Technologies and Palantir, proposed to use the social networking pages of the Chamber's enemies to manufacture evidence of supposed "relationships" between various players.
Labor of love
Robert Kuttner suggests in The American Prospect that organized labor may be the last best hope for reviving the middle class and restoring shared prosperity:
Though no longer centered in auto and steel factories, unions continue to offer lower-income Americans a path into the middle class–just ask a newly organized janitor, hotel worker, security guard, hospital paraprofessional, home-care worker, or warehouse, call-center, or food-service employee.
Kuttner notes that the average union employee earns about 20% more than a non-unionized worker doing the same job. He also cites evidence that unionized workers are more likely to vote for Democrats than their non-unionized counterparts and that the power of unions to deliver votes for Democrats had been growing steadily up until the Republican blowout in the midterm elections of 2010.
Budget bingo
Ari Berman of The Nation takes a closer look at President Obama's proposed federal budget for 2012. The budget calls for investments in high speed rail and a national infrastructure bank. It does not tinker with Medicare or Social Security. The cuts proposed in the budget barely offset the cost of continuing the Bush tax cuts for the wealthy, Berman notes.
Meanwhile, David Corn of Mother Jones examines the president's budget and feels deja vu from the Clinton administration. At a recent press conference, White House budget director Jared Lew outlined a budget that attempts to save money while"winning the future." Obama's budget promises $1.1 trillion in savings over the next decade, while maintaining investments in future-oriented research and development projects.
Corn notes that the administration is calling for $2.5 billion in cuts to a home heating program (LIHEAP) for the poor and elderly while simultaneously planning a national broadband network. But the administration has more or less given up on immediate job-creation in favor of long-term investment, Corn argues:
It seems the administration has concluded that after that tax-cut deal—which did amount to something of a second stimulus—there is not much else the White House can do via government spending (or tax cuts) to create jobs, especially with Republicans controlling the House.
That sounds good on paper, but how much are these ambitious big ticket projects going to do for Americans who are struggling in the current recession? He thinks it all sounds a lot like former president Bill Clinton's centrist approach to the budget.
Consumers Anonymous
Carrie Barker of Ms. Magazine interviews CNN host Jane Velez-Mitchell about her new book Addict Nation, a book about American consumerism as a form of mass addiction. As a recovering alcoholic with 16 years of sobriety, Velez-Mitchell says she began to see connections between her personal struggles and the larger cultural script that "more is better." She argues that our society needs a "consumer revolution" that will prompt people to rethink their buying patterns as conscious social and moral choices, as opposed to reflexive self-gratification.
This post features links to the best independent, progressive reporting about the economy by members of The Media Consortium. It is free to reprint. Visit the Audit for a complete list of articles on economic issues, or follow us on Twitter. And for the best progressive reporting on critical economy, environment, health care and immigration issues, check out The Mulch, The Pulse and The Diaspora. This is a project of The Media Consortium, a network of leading independent media outlets.
by Lindsay Beyerstein, Media Consortium blogger
With millions of Americans out of work, House Republicans are focusing in on real priorities: decimating private abortion coverage and crippling public funding for abortion, as Jessica Arons reports in RH Reality Check.
In AlterNet, Amanda Marcotte notes that the No Taxpayer Funding for Abortion Act, or H.R. 3, also redefines rape as "forcible rape" in order to determine whether a patient is eligible for a Medicaid-funded abortion. Under the Hyde Amendment, government-funded insurance programs can only cover abortions in cases of rape and incest, or to save the life of the mother. Note that the term "forcible rape" is  legally meaningless. Supporters of the bill just want to go on the record as saying that a poor 13-year-old girl pregnant by a 30-year-old should be forced to give birth.
Feminist blogger Sady Doyle has launched a twitter campaign against the bill under the hashtag #dearjohn, a reference to Speaker John Boehner (R-OH). Tweet to let him know how you feel about a bill that discriminates against 70% of rape victims because their rapes weren't violent enough for @johnboehner, append the hashtag #dearjohn. (more…)
by Erin Rosa, Media Consortium blogger
The countdown is on. Half a million supporters of comprehensive immigration reform rallied across the country on May 1 to protest SB 1070, Arizona's prohibitive new anti-immigration law and ratchet up pressure for a federal reform bill this year. In Washington, DC, police arrested a dozen demonstrators, including Rep. Luis Gutierrez (D-IL), after they engaged in non-violent civil disobedience, as Esther Gentile reports for New America Media.
So far, legislators in the Senate have not introduced a proposal, and the longer they wait, the less likely it is that a bill will be debated in 2010, especially with an election on the horizon. The stakes are incredibly high because a lack of federal action leaves a wide opening for states to draft their own, increasingly restrictive versions of immigration reform. (more…)
By Erin Rosa, Media Consortium blogger
As the health care debate comes to a close, there's no better time to introduce comprehensive immigration reform. Hundreds of thousands of immigrant rights supporters from all over the country congregated on the National Mall in Washington, D.C. on Sunday to demand immigration reform in 2010. It was the largest political rally to be held since President Barack Obama moved into the White House.
Dressed in white and carrying American flags, the crowd numbered between 200,000 to 500,000 people. The marchers spanned approximately 7 blocks, all the way from the Washington Monument to the steps of Congress. Although many media outlets and lawmakers were were occupied by the historic health care vote taking place in the House of Representatives on the same day, Obama took time from his busy schedule to record a video message to the marchers, in which he discussed the need for immigration reform "this year." (more…)