Posts tagged with 'Ms Magazine'
By Megan Hagist, Media Consortium blogger
One year after the worst oil spill in U.S. history began, key questions about its environmental impact remain unanswered. The 4.9 million barrels of BP oil that spilled into the Gulf of Mexico continue to threaten marine wildlife and other vile surprises have surfaced along the way.
Mother Jones' Kate Sheppard lists 10 reasons why we should not let the BP spill fade into the background. Perhaps the most important is the spill's effect on locals' health, about which Sheppard reports:
Of the 954 residents in seven coastal communities, almost half said they had experienced health problems like coughing, skin and eye irritation, or headaches that are consistent with common symptoms of chemical exposure. While the National Institute for Occupational Safety and Health (NIOSH) is conducting health monitoring for spill cleanup workers, residents in the areas closest to the spill are concerned that their own health problems have gone unattended.
Unfortunately, protests from these communities are unheard. Low-income and minority communities are typically targeted for oil production due to inadequate political power, but indigenous women in the United States and Canada are ready to change that.
Acting Against Big Oil
Organizations like Resisting Environmental Destruction On Indigenous Lands (REDOIL),  Indigenous Environmental Network, and Women's Earth Alliance are working together to apply continuous pressure on oil companies in order to stop some of their more environmentally disastrous projects. Ms. Magazine's Catherine Traywick shares insight from activist Faith Gemmill:
"We are trying to build the capacity of community leaders who are on the frontlines of these issues so that they can address these issues themselves," Gemmill says. Her organization trains community members who are confronted with massive industrial projects and provides them with legal assistance and political support. Women's Earth Alliance similarly links indigenous women leaders with legal and policy advocates who can, pro-bono, help them fight extractive industry, waste dumping and fossil-fuel production on sacred sites.
Meanwhile, Congress continues to neglect the National Oil Spill Commission's advice to endorse safety regulations, while demands for domestic offshore drilling become more vocal under presumptions of lower gas prices and increased employment. But are these reasons worth the economic and environmental risks associated with drilling offshore?
According to Care2's Jill Conners and Matthew McDermott, the answer is no. They break down the facts, noting:
Political posturing notwithstanding, offshore drilling will not eliminate US demand for foreign oil or really even make significant strides into reducing that dependency. At current consumption, the US uses about 8 billion barrels of oil per year; conventionally recoverable oil from offshore drilling is thought to be 18 billion barrels total, not per year.  What's more, offshore oil drilling will not guarantee lower fuel prices — oil is a global  commodity, and US production is not big enough to influence global prices.
What about Wind Power?
On Wednesday, the Bureau of Ocean Energy Management, Regulation and Enforcement approved the Cape Wind Project, a plan to build an offshore wind farm five miles off the southern coast of Cape Cod. First proposed 10 years ago, the farm will consist of 130 wind turbines, each 440 feet tall and capable of producing 3.6-megawatts of energy.
The controversial project has been opposed by some environmentalists, who expressed fears that the installation of the turbines could have destructive impacts related to aviation traffic, fishing use, migratory birds, and oil within the turbine generators, among other issues.
Moral issues are raised too, as local tribes have fought against the Cape Wind project. Earth Island Institute's Sacred Film Land Project has reported on the Wampanoag Indian tribes' petitions, which ask for protection of sacred rituals and a tribal burial grounds located directly in Cape Wind's path of installation.
Green-Ed
A somewhat worrisome study published Monday by the Yale Project on Climate Change Communication sheds light on Americans' climate change knowledge. Results show teenagers understand climate change better than adults, regardless of having less education overall, with a larger percentage believing climate change is caused by humans.
Some of the study's questions were summarized by Grist's Christopher Mims, who recounts that only "54 percent of teens and 63 percent of adults say that global warming is happening," while only "46 percent of teens and 49 percent of adults understand that emissions from cars and trucks substantially contribute to global warming."
This post features links to the best independent, progressive reporting about the environment by members of The Media Consortium. It is free to reprint. Visit the Mulch for a complete list of articles on environmental issues, or follow us on Twitter. And for the best progressive reporting on critical economy, health care and immigration issues, check out The Audit, The Pulse, and The Diaspora. This is a project of The Media Consortium, a network of leading independent media outlets.
By Lindsay Beyerstein, Media Consortium blogger
As the Great Blizzard of 2010 blanketed New York City, most residents were blissfully unaware that their city's 911 system was on the brink of collapse. The system fielded 50,000 calls in a single day, and at one point the backlog swelled to 1,300 calls. The mayor was called to account for the slow service and promised that it wouldn't happen again.
But David Rosen and Bruce Kushnick report in AlterNet that New York's close call is an example of a much broader and deeper problem. Cash-strapped state and local governments are raiding funds set aside for 911 service, and the system is hurting badly:
Hundreds of millions of dollars are collected annually by states and localities to support 911 services and much of it is diverted to plug state budget holes and meet a host of other demands. Most disturbing, 911 services are technologically bankrupt, held together by duct-tape and workarounds.
States siphoned nearly $400 million earmarked for 911 between 2001 and 2004. The law demands that the money, raised by a tax on every phone line, has to be set aside for 911-related services. Some states fudge the definition of "911-related" to fund things that had nothing to do with emergency services, like raises for courthouse staffers. Others just brazenly redirected the money into their general funds. New York collected $82.1 million in 911 taxes on phone lines in 2007, but only 19 cents out of the $1.20 monthly fee was spent on 911.
At least New York can account for its misdirected funds. South Dakota simply has no idea where its 911 money went, Rosen and Kushnick report.
Walker: Hurry up and die

Seemingly determined to cast himself as a Dickensian villain, Wisconsin Governor Scott Walker presented a budget last week that would slash millions in funding for health care for the poor and the elderly. However, as I reported in Working in These Times, Walker recommended an increase in funding for a program that buries Wisconsinites who die destitute.
Medicaid roulette
Some governors are clamoring for more control over Medicaid, the joint state/federal health insurance program for the poor, Suzy Khimm reports for Mother Jones. Currently, Medicaid funding is allocated primarily by a matching system, with the federal government kicking in a certain number of dollars for every dollar the state spends. The states must abide by federal rules in order to qualify. Now, some Republican governors want to see Medicaid funding doled out in block grants. The states would get a fixed amount of money, which they could spend as they saw fit.
Rep. Cathy McMorris Rodgers (R-Wash.), the fourth highest-ranking Republican in the House, is a leading proponent of this new scheme. She claims it would increase "flexibility" for states. In this case, flexibility is a euphemism for "massive cuts." Washington's Democratic governor, Christine Gregoire, has already convinced the Obama administration to exempt her state from certain Medicaid rules. McMorris Rodgers applauds the move.
Crisis Propaganda Centers
New York City City passed a landmark "truth in advertising" bill last Wednesday that would force so-called crisis pregnancy centers (CPCs) to disclose that they are not health care facilities. CPCs are anti-choice ministries posing as reproductive health clinics. Among other things, the law will require city CPCs to inform potential clients that they do not refer for abortions or emergency contraception, Noelle Williams reports for the Ms. Magazine blog.
The logic of our sex laws
The cover story of this month's Washington Monthly is a provocative analysis of Dan Savage, America's most influential sex advice columnist, as an ethicist of contemporary sexual mores. The author, Benjamin J. Dueholm, is a Lutheran pastor and a longtime fan of Savage's syndicated column "Savage Love." Dueholm does a good job of summarizing some of the core principles of Savage's ethos: disclosure, autonomy, mutual pleasure, and personal commitment to achieving sexual competence. His central critique is that Savage's attitude is too consumerist and businesslike.
I would argue that there's nothing inherently capitalist about Savage's ethics. Yes, Savage's ideal sexual world is based on consensual, mutually beneficial exchanges, like an idealized free market–but that doesn't mean that realizing one's sexual identity, or finding true love, is on par with picking a brand of laundry detergent. In consumerism, the customer is always right. Savage is constantly urging his readers to be active participants in a mutually satisfying sex life, not passive consumers who expect their partners to cater to them without giving anything in return.
USDA hearts Michael Pollan
Every five years, the U.S. Department of Agriculture issues guidelines for healthy eating. Parke Wilde of Grist explains why this year's edition is, in many ways, a radical and surprising document:
The new edition has a fascinating chapter on eating patterns, focusing on real foods and not just nutrients. This chapter on eating patterns provides a nice counterpoint to the reductionism — what Michael Pollan calls "nutritionism" — of scientific discussion of diet and health. The guidelines' healthy eating patterns may or may not include meat. For example, the USDA Food Patterns and the DASH diet each include moderate amounts of meat and plenty of low-fat dairy. At the same time, the guidelines explain clearly that meat is not essential, and near-vegetarian and vegetarian diets are adequate and even "have been associated with improved health outcomes."
This is a big departure for an agency that has historically been criticized for acting as a propaganda outlet for the livestock and dairy industries. But Wilde notes that, despite its enlightened discussion of the perils of "nutritionism," the USDA hasn't broken the habit of referring to nutrients rather than foods. The guidelines still recommend that Americans eat less saturated fat, without dwelling at length on which foods actually contribute most of the saturated fat to the American diet.
As nutritionist Marion Nestle explains in her seminal book, Food Politics, this mealy-mouthed advice is measured to avoid offending any lobby group that might take offense at the suggestion that Americans eat less of their product. There is no saturated fat lobby, but there are plenty of lobby groups representing the interests of industries tied to the major sources of saturated fat in the American diet, which include cheese, pizza, bakery products, ice cream, chicken, and burgers.
This post features links to the best independent, progressive reporting about health care by members of The Media Consortium. It is free to reprint. Visit the Pulse for a complete list of articles on health care reform, or follow us on Twitter. And for the best progressive reporting on critical economy, environment, health care and immigration issues, check out The Audit, The Mulch, and The Diaspora. This is a project of The Media Consortium, a network of leading independent media outlets.
By Lindsay Beyerstein, Media Consortium blogger
The most influential business lobby group in the United States has been linked to a scheme to deploy dirty tricks against its political opponents. Josh Harkinson reports for Mother Jones that prospective vendors for the Chamber of Commerce hatched a plan to frame and entrap critics of the Chamber.
The plan came to light last week after hackers released thousands of emails obtained from the servers of HBGary Federal, a private security company. The emails reveal Chamber law firm Hunton & Williams was looking for firms to help it execute a plot to entrap bloggers, union officials and other Chamber critics. The goal, according to Harkinson, was to manufacture evidence that all the Chamber's critics were working together to discredit the business group:
According to the emails, Chamber law firm Hunton & Williams wanted to hire digital sleuths that could demonstrate that the business group's opponents had been working as a "single entity instead of a true 'grasroots' campaign." That phrase and others suggest that the Chamber's ultimate goal was to openly accuse its foes of a left-wing form of astroturfing.
HBGary Federal was apparently planning to pitch its services as a "Corporate Information Renaissance Cell" to the Chamber yesterday. The emails show that HBGary Federal and two other firms, Berico Technologies and Palantir, proposed to use the social networking pages of the Chamber's enemies to manufacture evidence of supposed "relationships" between various players.
Labor of love
Robert Kuttner suggests in The American Prospect that organized labor may be the last best hope for reviving the middle class and restoring shared prosperity:
Though no longer centered in auto and steel factories, unions continue to offer lower-income Americans a path into the middle class–just ask a newly organized janitor, hotel worker, security guard, hospital paraprofessional, home-care worker, or warehouse, call-center, or food-service employee.
Kuttner notes that the average union employee earns about 20% more than a non-unionized worker doing the same job. He also cites evidence that unionized workers are more likely to vote for Democrats than their non-unionized counterparts and that the power of unions to deliver votes for Democrats had been growing steadily up until the Republican blowout in the midterm elections of 2010.
Budget bingo
Ari Berman of The Nation takes a closer look at President Obama's proposed federal budget for 2012. The budget calls for investments in high speed rail and a national infrastructure bank. It does not tinker with Medicare or Social Security. The cuts proposed in the budget barely offset the cost of continuing the Bush tax cuts for the wealthy, Berman notes.
Meanwhile, David Corn of Mother Jones examines the president's budget and feels deja vu from the Clinton administration. At a recent press conference, White House budget director Jared Lew outlined a budget that attempts to save money while"winning the future." Obama's budget promises $1.1 trillion in savings over the next decade, while maintaining investments in future-oriented research and development projects.
Corn notes that the administration is calling for $2.5 billion in cuts to a home heating program (LIHEAP) for the poor and elderly while simultaneously planning a national broadband network. But the administration has more or less given up on immediate job-creation in favor of long-term investment, Corn argues:
It seems the administration has concluded that after that tax-cut deal—which did amount to something of a second stimulus—there is not much else the White House can do via government spending (or tax cuts) to create jobs, especially with Republicans controlling the House.
That sounds good on paper, but how much are these ambitious big ticket projects going to do for Americans who are struggling in the current recession? He thinks it all sounds a lot like former president Bill Clinton's centrist approach to the budget.
Consumers Anonymous
Carrie Barker of Ms. Magazine interviews CNN host Jane Velez-Mitchell about her new book Addict Nation, a book about American consumerism as a form of mass addiction. As a recovering alcoholic with 16 years of sobriety, Velez-Mitchell says she began to see connections between her personal struggles and the larger cultural script that "more is better." She argues that our society needs a "consumer revolution" that will prompt people to rethink their buying patterns as conscious social and moral choices, as opposed to reflexive self-gratification.
This post features links to the best independent, progressive reporting about the economy by members of The Media Consortium. It is free to reprint. Visit the Audit for a complete list of articles on economic issues, or follow us on Twitter. And for the best progressive reporting on critical economy, environment, health care and immigration issues, check out The Mulch, The Pulse and The Diaspora. This is a project of The Media Consortium, a network of leading independent media outlets.
by Lindsay Beyerstein, Media Consortium blogger
New York City Mayor Michael Bloomberg is asking the USDA to approve a pilot program that would prevent his city's residents from buying sugar-sweetened soda with food stamps. Some have called the proposal paternalistic. However, at In These Times, Terry J. Allen argues that Bloomberg's proposal makes sense.
Allen notes that New Yorkers may spend up to $135 million in food stamp benefits on sodas. Nationwide, the food stamp program funnels about $4 billion into the pockets of soda manufacturers. Sugary carbonated drinks are artificially profitable for Big Pop because they are sweetened with high-fructose corn syrup, a heavily subsidized by-product of our broken agricultural system.
There are already restrictions on what you can buy with food stamps. Nobody thinks it's patronizing that alcohol is off-limits, even though alcoholic beverage are a potential source of calories. A little discussed benefit of ending the soda subsidy within the food stamp program would be the incentive it gives to small storekeepers in poor neighborhoods to devote less floor and refrigerator space to carbonated drinks and more room to real food. Many low income New Yorkers struggle to buy healthy food in their neighborhoods. Soda subsidies only make the "food desert" problem worse.
Impatient to die
Prisoners on Death Row in Texas spend 23 hours a day in solitary confinement. The death house in Texas is one of the most restrictive in the nation. Conditions are so bad that many inmates are actively looking forward to their execution day to put an end to the crushing isolation, Dave Mann reports in the Texas Observer. There is a growing consensus among psychiatrists that solitary confinement is a form of torture. Some experts, and many inmates, believe that solitary confinement is literally driving Texas death row inmates insane.
Daniel Lopez is in a hurry to die: "I don't see no point in waiting 20 years for them to finally decide to execute me." That's the first thing he tells me when I sit down to interview him. We are seated in the Polunsky Unit's visiting room. Lopez is encased in a small booth. We are separated by thick, soundproof glass and talk through phones. [...] [Lopez] says he has no desire to remain on death row. He says he's looking forward to execution day. He doesn't want to live much longer in his small cell. "I don't think that's a life for somebody," he says.
Health reform and the courts
Suzy Khimm of Mother Jones takes a closer look a the legal challenges to health care reform. Republicans in Virginia have been given the green light to challenge the constitutionality of the individual mandate in court. In October, a U.S. District judge in Detroit refused to issue a preliminary injunction to stop the implementation of health care reform in Michigan. On Monday, a U.S. District judge in Lynchburg, VA, dismissed Liberty University's anti-health reform lawsuit. Another Virginia judge says he will rule on a similar suit by the State Attorney General by the end of the year.
The current crop of politically motivated lawsuits challenging the individual mandate are legally tenuous at best. Aziz Huq wrote in The Nation: "Among constitutional scholars, the puzzle is not how the federal government can defend the new law, but why anyone thinks a constitutional challenge is even worth making."
As Columbia law professor Gillian Metzger explained to Chris Hayes of The Nation earlier this year, the constitutionality of the individual mandate is basically a "no-brainer." The way the Affordable Care Act is written, everyone who doesn't have health insurance from some provider has two options: Buy subsidized health insurance or pay a tax. The federal government obviously has the right to collect taxes. The case is expected to go all the way to the Supreme Court, but it seems unlikely to prevail. The real fear is that a lower court will paralyze the implementation of health care reform while the decision is pending.
Crisis pregnancy center bill
Shakthi Jothianandan of Ms. Magazine has the latest on proposed legislation that would force so-called crisis pregnancy centers (CPCs) in New York City to disclose that they are not real reproductive health clinics. The New York City Council held a hearing on the proposed legislation in mid-November, which brought together officials from the Department of Mental Health and Hygiene, Planned Parenthood, Concerned Clergy for Choice and staff from CPCs around the city. The representatives for the CPCs claimed that the bill violates their free speech rights, but the head of the New York Civil Liberties Union testified that requiring organizations to disclose that they are not real health care facilities and don't provide a full range of services does not infringe on any First Amendment right.
CeCe Heil, senior counsel with the Christian anti-abortion group American Center for Law and Justice, claimed the legislation was unnecessary because women are already smart enough to know that "abortion alternatives" means "alternatives to abortion." Many of the CPCs have "life" in their name, which should signal to potential clients that they do not provide abortion or abortion referrals. But if it's really so obvious that CPCs are just anti-choice ministries posing as reproductive health clinics, why oppose a law that simply requires all facilities to disclose the obvious?
Boehner meets with anti-choice extremist
Future Speaker of the House Rep. John Boehner (R-OH) met with anti-abortion extremist Randall Terry, as Miriam Perez of Feministing reports. Terry is the founder of the radical anti-choice group Operation Rescue, which has a long record of advocating violence against abortion providers. After Dr. George Tiller, one of the country's last high-profile late-term abortion providers, was assassinated, Terry called Tiller a "mass murderer" who "horrifically, reaped what he sowed."
This post features links to the best independent, progressive reporting about health care by members of The Media Consortium. It is free to reprint. Visit the Pulse for a complete list of articles on health care reform, or follow us on Twitter. And for the best progressive reporting on critical economy, environment, health care and immigration issues, check out The Audit, The Mulch, and The Diaspora. This is a project of The Media Consortium, a network of leading independent media outlets.
by Lindsay Beyerstein, Media Consortium blogger
Republicans don't have the votes to repeal health care reform, but they are determined to use their newly-won control of the House to fight it every step of the way. Marilyn Werber Serafini gives Truthout readers a sneak-peek at the GOP playbook to attack healthcare reform in 2011.
Who are some of the top contenders in this coming battle? Rep. Joe Barton (R-TX) is a leading candidate to chair of the House Energy and Commerce Committee. Barton is vowing, if elected chairman, to use the oversight powers of the committee to hold a flurry of hearings on alleged misconduct in the crafting of the Affordable Care Act. Barton plans to show that budget experts "covered up" the true projected costs of health care reform. In Barton's world, the fact that there's no evidence to support this allegation is all the more reason to investigate.
Other key players include James Gelfand, the director of health policy at the U.S. Chamber of Commerce, who has already compiled a wishlist of 31 investigations that he wants the newly Republican-controlled House to undertake. The Chamber spent millions to elect Republicans this cycle. Barton's hearings will have to compete for political oxygen with those of Rep. Darrel Issa (R-CA), the chair apparent of the Investigations Committee, who is promising to gum up the works of government with at least to seven hearings a week for 40 weeks, a projected rate nearly triple that of his predecessor Rep. Henry Waxman (D-Ca). (more…)
by Lindsay Beyerstein, Media Consortium blogger
The woman gunning for Sen. Harry Reid's (D-NV) job doesn't believe that autism exists.
Yes, you heard right. Sharron Angle believes that the neurodevelopmental disorder know to medical science as "autism" is actually a government-backed hoax to redistribute wealth from hardworking health insurers to pesky kids and their greedy parents.
Angle was caught on tape promising to abolish mandatory insurance coverage for autism. "Everything that they want to throw at us is covered under 'autism'," Angle told the American Association of Underwriters this summer, tracing scare quotes with her fingers as she said "autism."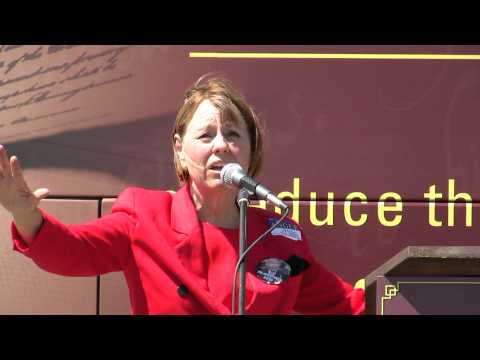 Care2′s Kristina Chew, the mother of a 13-year-old boy with autism, responds to Angle's airy dismissal:
…By saying that you don't think there should be health care for autism, I take it that you don't think that children, and individuals, with disabilities are in need of such things—living with their families and in their communities, healthy and safe, being loved and cared for? Being treated as we would all like to be? (more…)
by Lindsay Beyerstein, Media Consortium blogger
Rep. Steve King (R-IA) is urging Republicans to swear a "blood oath" to shut down the U.S. government until health care reform is repealed.
King is one of an growing number of Republicans who say that, if the GOP takes over congress this fall, they will hold up every appropriations bill until the Affordable Care Act is repealed, as Steve Benen reports in the Washington Monthly. Brian Beutler of TPM explains how this would actually work.
Blood oath or suicide pact?
Benen thinks the hardliners are crazy enough to actually follow through—They've done it before. In 1995, the Republicans shut down the federal government because then-president Bill Clinton refused to sign off on Congress's radical plan to slash Medicare and other social spending. Several hundred thousand federal employees were furloughed because there was no money to pay their salaries and every aspect of the economy suffered, according to a report by the Congressional Research Service. (more…)
by Catherine A. Traywick, Media Consortium blogger
After signing a controversial $600 million border security bill last week, President Barack Obama is drawing fire from immigration reform advocates and anti-immigrant conservatives alike. While the former argue that the new security measures are a step backwards for comprehensive immigration reform, the latter say the bill does too little to secure our borders.
Arizona's SB 1070 was a challenge to the federal government's ability to resolve the immigration issue, and the Obama administration took a strong stood against it. The border security bill is almost certainly a demonstration of the administration's might. But for what, and at whose expense? (more…)
by Lindsay Beyerstein, Media Consortium blogger
Last Thursday, Rep. Anthony Weiner (D-NY) launched into a righteous tirade against the GOP's attempts to derail a health care package for 9/11 first responders. His House floor antics became an instant viral video classic. Weiner and the House Dems were trying to pass a $7 billion health care assistance package for first responders, cleanup workers and others injured at Ground Zero in the wake of the 9/11 attacks, many of whom developed chronic and poorly-understood health problems as a result of their service.

The gentleman will sit down!
The original bill would have paid for the fund through a tax on foreign owned businesses operating in the United States. The Democrats were seeking a two thirds majority in House to prevent the Republicans from tacking on an amendment to pay for the package with money set aside for health care reform. Weiner exploded at his GOP colleagues for paying lip service to 9/11 heroes while refusing to pass the bill. The bill died, of course, and Rep. Peter King (R-NY) went back to rabble rousing about the proposed Islamic cultural center two blocks from Ground Zero.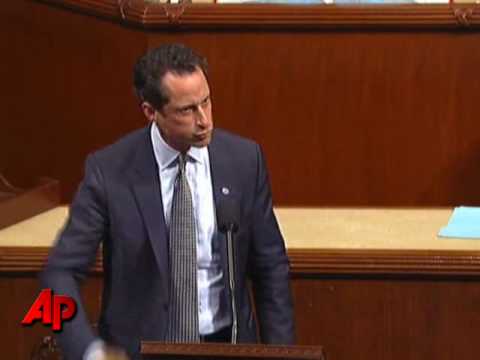 (more…)
by Annie Shields, Media Consortium blogger
With only a week remaining before Arizona's contentious Senate Bill 1070 becomes law, Arizona human and immigrant rights groups have found unlikely allies among the religious community.
The American Prospect reports that a growing group of evangelical Christian leaders, like Rev. Samuel Rodriguez Jr., president of the National Hispanic Christian Leadership Conference, are rejecting the traditional conservative stance on immigration, instead supporting President Barack Obama's call for comprehensive reform.
Southern Baptist and Catholic leaders are also among those who have come out in favor of a path to citizenship, according to New American Media. Following last week's blacklist scandal in Utah, the stance on immigration reform in the Mormon Church (Utah's dominant social institution) is under scrutiny. After the news broke of the blacklist of undocumented immigrants– which contained Social Security numbers, phone numbers, even the due dates of pregnant women– a firestorm of controversy erupted. (more…)