Posts tagged with 'talking points memo'
by Lindsay Beyerstein, Media Consortium blogger
The woman gunning for Sen. Harry Reid's (D-NV) job doesn't believe that autism exists.
Yes, you heard right. Sharron Angle believes that the neurodevelopmental disorder know to medical science as "autism" is actually a government-backed hoax to redistribute wealth from hardworking health insurers to pesky kids and their greedy parents.
Angle was caught on tape promising to abolish mandatory insurance coverage for autism. "Everything that they want to throw at us is covered under 'autism'," Angle told the American Association of Underwriters this summer, tracing scare quotes with her fingers as she said "autism."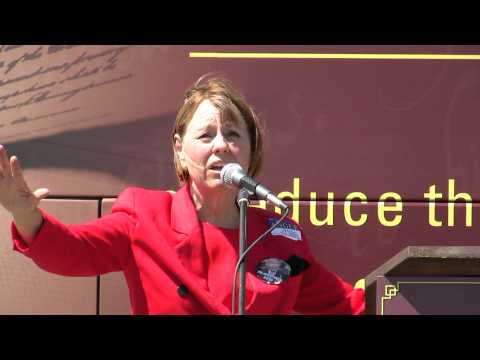 Care2′s Kristina Chew, the mother of a 13-year-old boy with autism, responds to Angle's airy dismissal:
…By saying that you don't think there should be health care for autism, I take it that you don't think that children, and individuals, with disabilities are in need of such things—living with their families and in their communities, healthy and safe, being loved and cared for? Being treated as we would all like to be? (more…)
by Lindsay Beyerstein, Media Consortium blogger
Rep. Steve King (R-IA) is urging Republicans to swear a "blood oath" to shut down the U.S. government until health care reform is repealed.
King is one of an growing number of Republicans who say that, if the GOP takes over congress this fall, they will hold up every appropriations bill until the Affordable Care Act is repealed, as Steve Benen reports in the Washington Monthly. Brian Beutler of TPM explains how this would actually work.
Blood oath or suicide pact?
Benen thinks the hardliners are crazy enough to actually follow through—They've done it before. In 1995, the Republicans shut down the federal government because then-president Bill Clinton refused to sign off on Congress's radical plan to slash Medicare and other social spending. Several hundred thousand federal employees were furloughed because there was no money to pay their salaries and every aspect of the economy suffered, according to a report by the Congressional Research Service. (more…)
by Lindsay Beyerstein, Media Consortium blogger
Christine O'Donnell is master of her domain. The deeply conservative Tea Party darling won the Republican senate nomination in Delaware last night with a stunning upset of establishment favorite Rep. Mike Castle.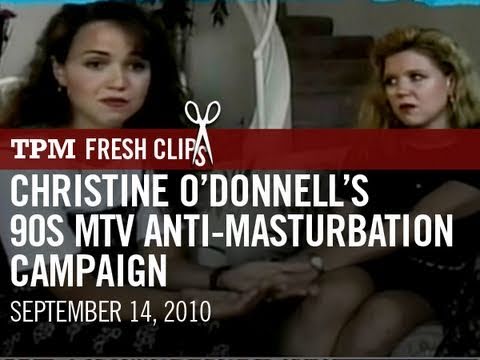 O'Donnell rose to prominence as an anti-masturbation crusader in the 1990s. Jillian Rayfield of Talking Points Memo has video of O'Donnell's 1996 appearance on MTV's series "Sex in the Nineties" in which she and her colleagues from the Savior's Alliance for Lifting the Truth Ministry. (SALT) O'Donnell warns teens that masturbation is adultery that will undermine their future marital sex lives: "You're going to be pleasing each other, and if he already knows what pleases him and he can please himself, then why am I in the picture?" she asks. (more…)
by Lindsay Beyerstein, Media Consortium blogger
"The average death rate in the city during normal times is between 360 to 380 people a day. Today, we have around 700. This is no secret. Everyone thinks we are trying to keep it secret. Look, it is 40 degrees Celsius on the street," Andrei Seltsovsky, head of Moscow's public health department, quoted on Democracy Now!
Russia is in the grip of the worst heatwave in its history. The country hasn't seen temperatures like this since record-keeping began 130 years ago. Months of drought have turned the countryside into a tinderbox and wildfires are burning out of control. Moscow is besieged by acrid smoke and soaring temperatures.
Meteorologist Jeff Masters tells Amy Goodman of Democracy Now! that the heat wave could kill tens of thousands of Russians. A similar smoky heat wave in France in 2003 killed 40,000 people, most of them elderly.  Even in the U.S., heatwaves kill more people than hurricanes, tornadoes, floods, and earthquakes combined. (more…)
by Catherine Traywick, Media Consortium blogger
Though Arizona's SB 1070 went into effect without its most controversial provisions, the legislation's stated intent
—attrition through enforcement—is nevertheless gaining traction among anti-immigrant legislators across the nation. In the wake of the law's enactment, other states are coming out in support of Arizona, some developing policy modeled after SB 1070. Others even hope to alter the U.S. constitution to deny "birthright citizenship" to children of undocumented immigrants.
Arizona stands firm against injunction

After federal judge Susan Bolton blocked numerous elements of SB 1070, Arizona governor Jan Brewer wasted no time and swiftly filed an appeal against the injunction.
Maricopa County Sheriff Joe Arpaio, for his part, has assured the public that he intends to continue enforcing state and federal immigration laws through "crime sweeps" and immigration status checks. After Arizona's 287(g) agreement expired last year, effectively stripping local law enforcement of the right to detain individuals on suspicion of their immigration status, Arpaio similarly refused to comply, brazenly maintaining his immigration enforcement campaign.
Jamilah King of ColorLines reports that on the day that SB 1070 went into effect, Arpaio and hundreds of deputies arrested 50 protesters before completing their 17th immigration raid. Those arrested included clergy, journalists, and attorneys. Local civil rights leader Salvador Reza – a particularly outspoken critic of Arpaio's contentious enforcement tactics, was also taken into custody, as was former state Sen. Alfredo Gutierrez. (more…)
By Amanda Anderson, Media Consortium blogger
At approximately 4:00 a.m. Monday morning, the Freedom Flotilla, an international aid convoy headed for the Gaza strip, was attacked in international waters about 40 miles off the coast of Gaza by Israeli commandos. The convoy consisted of six ships with almost 700 international humanitarian activists on board. The commandos landed on the flotilla's lead ship, the Turkish Mavi Marmara.
As Gershom Gorenberg states in the American Prospect, "Activists who were on board say the Israeli commandos fired before being attacked; the Israeli military says the soldiers were defending themselves from a mob." Either way, at least 9 people have been killed.
Esther Kaplan takes a look at the mainstream media's coverage of the event, and it isn't pretty. "In some cases, we saw misinformation and an almost gleeful boosterism," Kaplan writes.
Was this really an act of nonviolence?
Were those aboard the Freedom Flotilla trying to enforce a negative public opinion of Israelis? Or were they just trying to bring humanitarian aid to the Gaza strip? Going back to the Prospect: "Before and after the raid, Israeli officials referred to the flotilla as a 'provocation' intended to harm Israel. That's probably true — and only raises the question of why Israel allowed itself to be provoked."
The Progressive's Matthew Rothschild thinks otherwise. He states; "With this assault, Israel may finally have lost any hope of finding its moral compass or restoring its reputation. The invasion of Gaza seventeen months ago was a war crime. The embargo of Gaza is [also] a war crime—an act of collective punishment causing astronomical levels of poverty, malnutrition, and joblessness."
While sifting through all the accounts of the Flotilla attack, it's important to remember that we are only getting one perspective. But, as prisoners are slowly released, their testimonies reveal the other side of the story. As Seth Freed Wessler writes in RaceWire, "Those who have been released describe horrific treatment, and say that shots were fired from Israeli helicopters even before soldiers boarded the ships."
For more information on the attack, visit the following links:
The world responds
Could the Flotilla incident be the last straw for relations between Israel and Turkey? According to Talking Points Memo, that could just be the case:
"Separate from everything to do with what happened in the water off Gaza yesterday, the implications for Israel's relationship with Turkey seem profound and perhaps irremediable… This isn't the first blow up in Israel-Turkey relations. Turkish opposition to the Gaza War (Operation Cast Lead) has been at the center of the dispute going back to 2008."
The Southern blockade of the Gaza strip, which is maintained by Egypt and not Israel, was opened in response to the Flotilla incident, and new reports show that this section of the border may stay that way. Also from Talking Points Memo, "An Egyptian security source told Reuters: 'Egypt opened its border with the Gaza Strip on Tuesday to allow humanitarian and medical aid to enter the Strip. The border will remain open for an unlimited time,' the source said, letting Palestinians enter and leave Egypt."
In the United States, a group of Nobel Peace Price winners joined together to condemn the attack, calling Israel's three-year blockade of Gaza illegal under international law and "one of the world's greatest human rights violations." President Barack Obama's signature was conspicuously absent from this document.
But, as Medea Benjamin writes for AlterNet, "President Obama is a constitutional lawyer. He must understand that the blockade of Gaza is illegal under international law. So is attacking civilian boats in international waters. The Israeli government must be held accountable for its actions. Global leaders, including its most revered members such as Nelson Mandela and Aung San Suu Kyi, have come out on the side of justice and law. So must President Obama."
For more information on the international responses to this incident, visit the following links:
What will happen next?
Will such widespread disapproval of Israel's action lead to the end of the blockade? Maybe this event will change relations between the U.S. and Israel. The Minnesota Independent reports that Teachers Against Occupation (TAO) released a statement saying, "Israel's criminal actions cannot be permitted to continue. The United States directly supports Israeli atrocities with billions of dollars of military and economic aid every year. All of our Senators and Congressional representatives have supported this aid. This must stop. We call for an immediate end to U.S. ties to Israel."
This post is a special report on the flotilla attack and features links to the best independent, progressive reporting by members of The Media Consortium. It is free to reprint. For more updates, follow us on Twitter. And for the best progressive reporting on critical economy, environment, health care and immigration issues, check out The Audit, The Mulch, The Pulse, and The Diaspora. This is a project of The Media Consortium, a network of leading independent media outlets.
by Lindsay Beyerstein, Media Consortium blogger
This week's health care news was full of mind-bending paradoxes: Prostate health is girly, abstinence-only education works through failure, "principled" libertarian Rand Paul would protect all-white lunch counters but ban private abortion clinics, and more.
Prostate health is girly
The Prostate Cancer Foundation recently rolled out one of the most bizarre and ill-advised public health advisories in the history of advertising. The takehome message? That there's something sissy, or god forbid gay, about getting checked for prostate cancer.
The ad features a bunch of retired sports legends in a suburban living room, knitting. They proceed to quiz each other about their prostate exams.
(more…)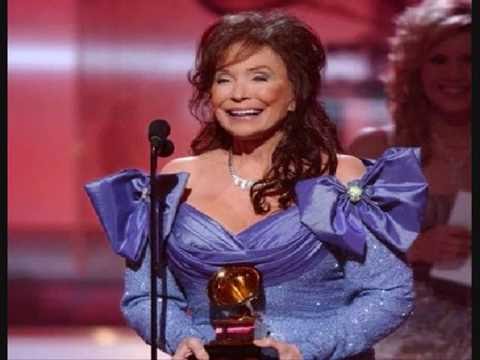 by Lindsay Beyerstein, Media Consortium blogger
Fifty years ago, the Food and Drug Administration approved the first birth control pill. Needless to say, the repercussions of this medical and public policy breakthrough are still being felt today.
Catherine Epstein of the Women's Media Center thinks it's significant that we celebrate the date a U.S. government agency approved the Pill, as opposed to the anniversary of its invention. The Pill has been at the center of a power struggle from the very beginning:
The pill has been under ideological fire since the first tiny tablet hit a woman's palm. And the impact it's had on women's autonomy and freedom has been – as decades have passed – nearly equal to the fear (and subsequent restriction) it's instilled in those who believe in curtailing reproductive rights. (more…)
By Lindsay Beyerstein, Media Consortium blogger
Last night, the House of Representatives passed comprehensive health care reform after more than a year of fierce debate. The sweeping legislation will extend coverage to 32 million Americans, curb the worst abuses of the private insurance industry, and attempt to contain spiraling health care costs.
The main bill passed the House by a vote  219 to 212, after which the House approved a package of changes to the Senate bill by a vote of 220 to 211. On Tuesday, President Barack Obama will sign the main bill into law. Then, the Senate will incorporate the House-approved changes through filibuster-proof budget reconciliation, perhaps as early as this week. (more…)
By Lindsay Beyerstein, Media Consortium Blogger
You will be shocked, shocked to hear that a Blue Dog Democrat who made a career out of undermining his own party is sucker-punching them on his way out.  Sen. Evan Bayh of Indiana abruptly announced this week that he would not seek reelection in November. Bayh's departure is ratcheting up insecurity in the Democratic caucus at the very moment they need to take decisive action to pass health care reform.
Bayh could easily have won a third term, but it's unclear whether any other Democrat can hold the seat. To add insult to injury, Bayh waited until 24 hours before the filing deadline for Democratic primary candidates, sending Indiana Dems scrambling to find a candidate to run in his place. Bayh's tardiness was calculated. Since no Democrats were ready to file by the deadline, the Indiana Democratic establishment will get to handpick Bayh's successor.
In a call with state Democratic officials, Bayh said his abrupt departure is for the best, as Evan McMorris-Santoro reports for TPMDC. According to Bayh, he's doing the party a favor by sparing them a contentious primary process. Thanks a lot.
What does this mean for health care reform?
What does Bayh's departure portend for health care reform? Monica Potts of TAPPED argues that replacing a conservative Democrat like Bayh with a moderate Republican won't make that much difference. Bayh was never a reliable Democratic vote.
But Tim Fernholtz of TAPPED dismisses this view as naive. Fernholtz predicts that, for all of Bayh's faults, the senate will be much worse without him: "In essence, the difference between this insubstantial Hoosier and, say, [GOP hopeful] Dan Coats, is simple: You can buy off Bayh." Bayh voted for health care reform and the stimulus, no Republican, no matter how "moderate" is going to vote that way.
Anyone who expects a moderate Republican from Indiana to support any part of the Democratic agenda is deluded. On the other hand, the Senate Democrats already passed their bill, their only remaining task would be to pass a "fix" through budget reconciliation to make changes in the legislation that would be acceptable to the House. Of course, reconciliation will be a bitter political fight. One wonders whether the demoralized Senate Democrats will have the stomach for it.
About that health care summit…

Note that congressional Republicans have yet to commit to attending the "bipartisan" health care summit that they called for. Christina Bellatoni of TPMDC reports that yesterday White House Press Secretary Robert Gibbs wondered why the Republicans were for the summit before they were against it:
"Right before the president issued the invitation, the—the thing that each of these individuals was hoping for most was an opportunity to sit down on television and discuss and engage on these issues. Now, not accepting an invitation to do what they'd asked the president to do, if they decide not to, I'll let them leap the—leap the chasm there and try to explain why they're now opposed to what they said they wanted most to do," Gibbs said.
Busting the filibuster
On the bright side, the Democrats still have a sizable majority in the Senate, with or without Bayh. Republicans would have to beat all 10 vulnerable Democratic incumbent senators in the next election in order to regain control of the Senate. The more immediate threat to health care reform and the Democrats' ability to govern in general is the institutional filibuster. Structural reform is needed to break the impasse. Lawyer and author Tom Geoghegan talks with Amy Goodman on Democracy Now! on strategies for busting the filibuster.
Public option resurfacing
Mike Lillis of the Washington Independent reports that four senate Democrats have thrown their lot in with progressives clamoring for a public option through reconciliation. Sens. Sherrod Brown (OH), Jeff Merkley (OR), Kirsten Gillibrand (NY) and Michael Bennet (CO) argue for the public option in an open letter to Majority Leader Harry Reid. The letter reads:
There are four fundamental reasons why we support this approach – its potential for billions of dollars in cost savings; the growing need to increase competition and lower costs for the consumer; the history of using reconciliation for significant pieces of health care legislation; and the continued public support for a public option….
Big pharma's lobby
That's nice, but let's not forget who's really in charge. In AlterNet, Paul Blumenthal recaps the sorry history of collusion between the White House, the pharmaceutical lobby group PhRMA, and the Senate. According to Blumenthal the White House steered pharmaceutical lobbyists directly to Sen. Max Baucus (D-MT), chair of the powerful Finance Committee, who was entrusted with crafting the White House's favored version of health care reform.
Abortion and health care reform
As if we didn't have enough to worry about, Nick Baumann of Mother Jones notes that the National Right to Life Committee (NRLC) is making abortion is an obstacle to passing health care reform through reconciliation. The NRLC is insinuating that Bart Stupak (D-MI) and his coalition of anti-choice Democrats will vote against the Senate health care bill because it it's slightly less restrictive of abortion than the bill the House passed. The good news is that it's procedurally impossible to insert Stupak's language into the Senate bill through reconciliation. The bad news is that Speaker Nancy Pelosi (D-CA) needs every vote she can get to pass the Senate bill and anti-choice hardliners could be an obstacle.
This post features links to the best independent, progressive reporting about health care by members of The Media Consortium. It is free to reprint. Visit the Pulse for a complete list of articles on health care reform, or follow us on Twitter. And for the best progressive reporting on critical economy, environment, health care and immigration issues, check out The Audit, The Mulch, and The Diaspora. This is a project of The Media Consortium, a network of leading independent media outlets.